Dir/scr: Joe Berlinger. US. 2011. 102mins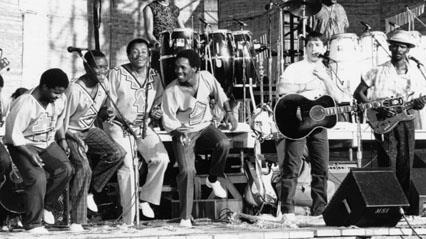 "Don't you believe in collaboration?" Paul Simon asks a defiant African American student who is critical of the performer's Graceland album, accusing him essentially of cultural exploitation. That's one of the central issues in Joe Berlinger's compelling documentary about the political controversies and creative conception of Simon's landmark record on the 25th anniversary of its release.
If Under African Skies has a fault, it's that Simon's critics are never given as much due as his supporters.
Slated for a US broadcast on A&E—Sony owns international broadcast rights—Under African Skies is more than a mere concert film, tackling the thorny issue of the role of artists in society. This effectively makes it a more intriguing film, which could yield plenty of foreign festival play, limited theatrical sales and a healthy ancillary life.
The film successfully balances multiple storylines: the artist's return to South Africa for a reunion concert, archival footage of the making of the album decades before, and comments from the many people at the center of the political firestorm that surrounded Simon at the time, particularly a tête-à-tête with Artists Against Apartheid founder Dali Tambo, who was against Simon's work in South Africa.
One of the main charges leveled at Simon was his violation of the United Nations boycott of South Africa at the time, which was meant to isolate the harshly racist Apartheid regime. In frank interviews, Simon actively defends his decision, to both Tambo and Berlinger's questioning camera, claiming that his work was all about mutual creation and sharing. "It was purely musical," he says.
If Simon's stance may seem a little naïve, denying the political realities of South Africa in the 1980s, Berlinger's documentary makes the case that the cultural boycott was not an effective policy, only acting to isolate the very people and artists it was meant to help. As Graceland's South African guitarist Ray Phiri says after he was asked to abandon the Graceland tour by the African National Congress, "How can you victimize the victim twice?"
Simon also defends his creative decision not to apply political lyrics to the African rhythms and songs that he adopted—which were, as he argues, never political to begin with. The original African music behind "I Know What I Know," for instance, was amusingly inspired by '60s mini-skirts. "These songs are pop music," he says.
The documentary also addresses the "rich white guy" debate, as some suggested Simon was like a tourist taking pictures and "Simon-izing" the African music. But a number of persuasive voices—from music critics to Philip Glass to Quincy Jones to Harry Belafonte—back up Simon's perspective, arguing that Graceland resolves social contradictions and celebrates a "mishpocha"—to use the Yiddish expression, as Belafonte humorously does in the film—into a beautiful musical collaboration that brought attention and put a human face on the South African struggle for liberation.
Indeed, it's hard to argue with the magnanimous spirit of Simon's South African collaborators, such as the animated, smiling leader of Ladysmith Black Mambazo Joseph Shabalala, who speaks of Simon as a brother and talks fondly of the first time he hugged a white man. The Graceland music itself, which functions as an ever-present, but never overwhelming soundtrack to the documentary, also remains infecting after all these years, and had the audience bopping and clapping during the end credits.
If Under African Skies has a fault, it's that Simon's critics are never given as much due as his supporters. While it's laudable that Berlinger raises such issues, and Simon addresses them, the performer comes off a little too clean. But as the South Africans certainly know, reconciliation is far more constructive than holding grudges.
Production companies: A&E IndieFilms, @radical.media
International sales: @radical.media, www.radicalmedia.com
Producers: Joe Berlinger, Justin Wilkes, Molly Thompson, Jon Kamen
Executive producers: Robert Friedman, Eddie Simon, David McKillop, Robert DeBitetto
Cinematography: Robert Richman
Editor: Joshua L. Pearson
Sound: Eddie O'Connor
Music: Paul Simon
Website:
Main cast: Paul Simon, Quincy Jones, Harry Belafonte, Paul McCartny, David Byrne, Dali Tambo