Dir: Agnes Jaoui. France. 2013. 112mins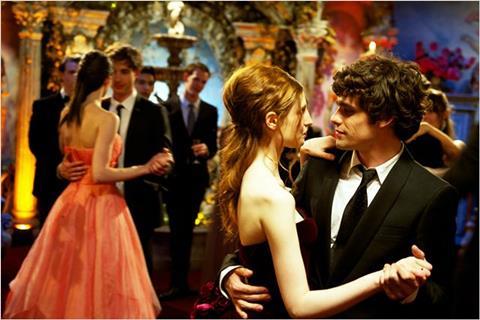 Screenwriter and actress Agnes Jaoui began her directing career with two rock solid scripts - The Taste of Others (2000) and Look at Me (2004) - that yielded pitch-perfect performances from ensemble casts nailing the bittersweet humour of human foibles. But after the only moderately engaging Let It Rain, (2008) her latest effort, Under The Rainbow (Au Bout du conte), toys with but fails to sufficiently embrace or subvert the rules of fairy tales, registering more like an overpopulated doodle than a polished film.
That artisanal quality may be a plus for some viewers but the venture will seem freewheeling to the brink of randomness for others.
Jaoui's love of music and co-screenwriter Bacri's gift for playing curmudgeons feel shoehorned into this rambling, occasionally amusing potpourri in which each character sort of echoes a fairy tale archetype.
The film, which hits French screens on March 6, and screened at the EFM, has already sold well abroad. Where local movies are concerned, a case can be made for mainstream French audiences actually preferring films that are derivative and overly casual in their exposition. The fact that Noemie Lvovsky's utterly unremarkable and borderline lazy Camille Rewinds tops the Cesar race with 13 nominations is a recent example of box office success and professional recognition lavished on a movie that would have been unlikely to please so many elsewhere.
Under The Rainbow could hit a comparable nerve. It's far from awful and it has its moments but it's also not very good.
Four generations of contemporary characters deal with the parameters of romance and personal freedom at a leisurely pace, with an occasional salutary burst of sharp visual humour or unfiltered rude behaviour. It takes quite a while for viewers to get the lay of the land. Interconnections are not immediately obvious.
Marianne (Jaoui) is separated from Eric (Laurent Poitrenaux) and their nine-year-old daughter is going through a phase of serious bible study and psychosomatic itching.
Marianne is marshalling a troupe of children for a school play about princesses and prince charmings. While this is surely not the filmmaker's intention, the nebulous rehearsals drag on so long they seem to be the pint-sized answer to "No Exit."
Marianne's brother Guillaume (Didier Sandre), a dapper industrialist whose firm may or may not be polluting water, has a 24 year-old daughter, Laura (Agathe Bonitzer) who is easy on the eyes but barely has a pulse. A fortune-teller and a dream lead her to believe she'll meet Monsieur Right. If anything can be said to be the core of the film, this is it.
While Bonitzer has charm to burn in real life, here she's been instructed to convey all the verve of Sleeping Beauty while asleep. It's hard to care whether she makes dumb romantic decisions or suitable ones because she's such a cipher.
Successful singer-composer Benjamin Biolay — who has a real life reputation as a ladies man - is well cast as an imperious, self-involved music critic who goes through women like paper plates but whom Laura mistakes for a soulmate. So much so that she announces to her steady beau that she's cancelling their relationship despite a looming engagement party.
Meanwhile, music student Sandro (Arthur Dupont) has to break bad news to his best friend but is dawdling. Sandro's cowardice disgusts fellow musician Clemence (Nina Meurisee), who has a crush on Sandro.
Marianne takes driving lessons from driving instructor Pierre (Bacri) who is the divorced father of Sandro. Sandro lives with his mother (Dominique Valadie) and Pierre lives with his girlfriend Eleonore (Valerie Crouzet) and her two daughters. Congenitally grumpy Pierre doesn't seem cut out to be anybody's mate, let alone father or stepfather. Bacri's curt, frequently inappropriate pronouncements are a highlight.
There are yet more characters - including deadpan comic turns from Guillaume's wife (Beatrice Rosen) whose unnervingly youthful appearance stems from plastic surgery and costly unguents rather than the historic evil stepmother bag of tricks. Sandro, a sort of male Cinderella, loses a shoe at a party. Pierre finds himself haunted by a long-ago prophecy that he's due to die on a specific date — a date that happens to loom large for a few other characters, too.
All these components are stitched together with minimal rigour en route to a tying up of loose ends that may or may not qualify as happy. That artisanal quality may be a plus for some viewers but the venture will seem freewheeling to the brink of randomness for others.
Production companies: Les Films A4, France2 Cinema, Memento Films Production, La Cinéfacture, Hérodiade
International sales: Memento Films, www.memento-films.com
Producers: Jean-Philippe Andraca, Christian Bérard
Screenplay: Agnes Jaoui, Jean-Pierre Bacri
Cinematography: Lubomir Bakchev
Production designer: Francois Emmanuelli
Music: Fernando Fiszbein
Main cast: Jean-Pierre Bacri, Agnes Jaoui, Agathe Bonitzer, Arthur Dupont, Benjamin Biolay, Dominique Valadié, Didier Sandre, Laurent Poitrenaux, Valerie Crouzet, Beatrice Rosen, Nina Meurisse, Clement Roussier