Dirs: Måns Marlind and Björn Stein. US. 2011. 88mins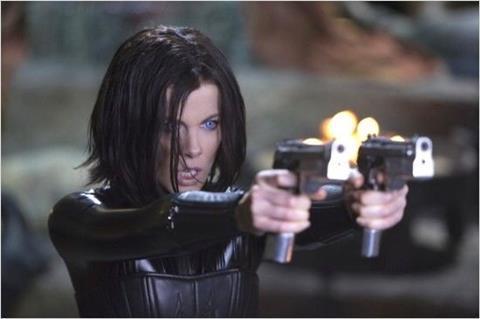 Even the sight of the ever-game Kate Beckinsale slipping back into her snug black latex'n'leather outfit can do little to inject energy – let alone sense – into the latest of the vampires vs. werewolves Underworld series. There is plenty of rather bloody mayhem and some nicely staged action set pieces, but the story is a lumbering re-hash of the first couple of films in the series and feels perfunctory at best.
There are some nicely gory sequences and plenty of gunplay.
With Haywire its nearest rival in terms of action, Underworld: Awakening (which had no advance press screenings) has the fact that it is one of the few action-horror films around on its side, and while it will initially likely draw strong box office – probably a largely male audience, keen fans of the Beckinsale-latex look – figures will probably dip away fairly speedily. Home entertainment success will be guaranteed, though adult classification (due to the gore quota) may be a handicap in some territories.
Beckinsale played vampire Death Dealer Selene in the first two films in the series – Underworld (2003) and Underworld: Evolution (2006) – though handed on her snug black garb to Rhona Mitra for the 2009 film Underworld: Rise Of The Lycans, which was essentially on origins tale that expanded details of the centuries old feud between the aristocratic vampires and their onetime werewolf slaves, the Lycans.
Underworld: Awakening is set directly after Underworld: Evolution, with Selene planning to meet her Lycan-hybrid lover Michael (played by Scott Speedman in the first two films, though he has no credit in this new film) at the docks so they can sail off and escape the humans who are busy killing off vampires and werewolves alike.
Separated in the water after Michael is shot, Selene wakes to find herself in a lab, cryogenically frozen and held in a container marked simply 'Subject 1'. Released from her prison, she fights her way out of the building, but is shocked to discover 12 years have passed and that vampires and Lycans have been hunted to virtual extinction.
Even more of a surprise is that she was freed by her daughter Subject 2 (India Eisley, who the credits handily reveal is actually named Eve), and Selene sets about trying to protect her powerful hybrid daughter, who has been used as a guinea pig by scientist Dr Jacob Lane (Stephen Rea), who turns out to have less than kindness in his heart.
With a little help from handsome vampire David (Theo James) and cop Detective Sebastian (Michael Ealy) she takes on all threatening her and her daughter, with a final showdown back in the heavily fortified Antigen lab where she has to go toe-to-claw with a massive Lycan mutant (who also happens to be Lane's son, played by Kris Holden-Reid) as she has to rescue the little girl…who actually is pretty handy at taking care of herself.
There is no denying that Beckinsale looks good, with her natural grace and glacial beauty suiting the sleek gun-toting character of Selene, but this time round it does feel like she is being made to go through the motions (there are lots of scenes of her blazing away with her twin machine pistols or landing superhero fashion after yet another jump from a tall building) with her having a daughter to tend an easy and obvious plot development.
Theo James and Michael Ealy flit in and out, and while India Eisley is nicely cast as the little girl struggling to get to know her mother, she is given little dialogue to work with and the need for action and effects means she spends half of the time looking like a snarling Linda Blair from the Exorcist as she battles beasties alongside momma.
Charles Dance crops up for a few classy scenes as David's aristocratic vampire father (filling the void left by Bill Nighy who played the haughty vampire elder statesman in the earlier films), while Stephen Rea plays a by-the-numbers scientist villain with no real enthusiasm.
There are some nicely gory sequences - perhaps best of all when Selene does a little open-heart surgery using just her own hand – and plenty of gunplay, but the 3D adds absolutely nothing to the violent thrills. Worryingly the film leaves itself open to yet another sequel with the mystery of what happened to Selene's lover Michael still be resolved…though in truth it would be far better is a line was drawn under this particular vampire action series.
Production companies: Saturn Films, Sketch Films UW4 Productions
International sales: Lakeshore Entertainment, www.lakeshoreentertainment.com
Producers: Gary Lucchesi, Tom Rosenberg, Len Wiseman, Richard S Wright
Executive producers: David Kern, James McQuaide, Skip Williamson
Screenplay: Len Wiseman, John Hlavin, J. Michael Straczynski, Allison Burnett
Cinematography: Scott Kevan
Editor: Jeff McEvoy
Production designer: Claude Pare
Music: Paul Haslinger
Website: http://entertheunderworld.com
Main cast: Kate Beckinsale, Theo James, India Eisley, Stephen Rea, Michael Ealy, Charles Dance, Kris Holden-Reid