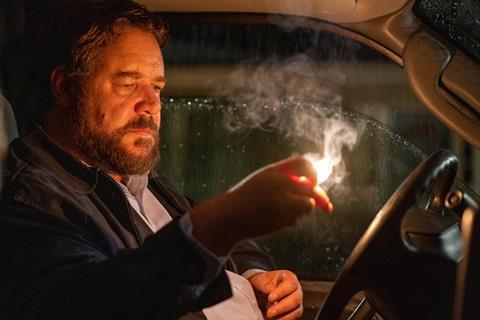 AUGUST 25 UPDATE: Solstice Studios' road rage thriller Unhinged starring Russell Crowe grossed a little over $4m at the weekend as it became the first new wide release to open in the US since cinemas closed in mid-March.
Comparisons are unreliable given the unique circumstances brought on by the pandemic, however Solstice brass plan a long theatrical run and expressed confidence that the numbers indicated audiences are willing to return to the cinemas amid social distancing and health and safety protocols.
Playing in 1,823 sites, the film earned $1.65m on Saturday after an encouraging 11.5% climb from Friday's $1.48m gross. Sunday added $90,167.
By Monday Unhinged stood at $5m in the US and Canada, of which roughly $1m comes from Canada, where the film opened a week prior to the US launch.
Solstice are forecasting an $8m running total in North America by Thursday en route to a $30m projection by the end of the run.
AUGUST 23 ORIGINAL REPORT: It was notable that while the three major chains AMC Theatres, Regal and Cinemark reopened across wide swathes of the US, the top five cinemas were drive-ins in regions where cinemas remain closed, including key markets Los Angeles and New York.
The top five sites were Paramount in Los Angeles; Solano Twin in Concord, California; Sacramento 6; Ford Wyoming in Detroit, Michigan; and Capital 6 in San Jose, California.
The next top cinemas for Unhinged were Santikos Casa Blanca in San Antonio, Texas; Warren 14+ IMAC in Oklahoma City; Cinemark Pharr Town Center+ XD in Pharr, Texas; Tibbs 4 drive in in Indianapolis; and AMC Dine In Disney Springs in Orlando, Florida.
By Market, Dallas-Fort Worth, Texas, led the way on 5.3%, followed by Houston, Texas, on 3.6%, Chicago, Illinois, on 3.5%, Atlanta, Georgia, on 2.6%, and Orlando, Florida, on 2.4%. Toronto was the top Canadian market ranking ninth in North America on 2.1%.
"Based on this performance and multiples we have seen in the international release of the film, we are confident that we will hit our goal of $30 million box office at a minimum by the end of the movie's theatrical run in North America," said Shari Hardison, head of distribution at Solstice, which also produced the thriller. "We have a lot of stairs to climb, but the first steps are encouraging."
"We are pleased and relieved to see moviegoers took the first step to return to theaters this weekend," said Solstice President and CEO Mark Gill. "As we have seen around the world – and the light release schedule in the coming month suggests – the movie will have a long run. Slow and steady wins this race."
Saturday night exit polls revealed a 56%-44% male-female breakdown. By ethnicity, Unhinged drew a crowd comprising 65% Caucasians, 20% African American, and 12% Hispanic. By age, some 80% of audiences were over 25.
LD Entertainment and Roadside Attractions released high school romantic drama Words On Bathroom Walls and reported $462,050 from 925 US screens for an estimated per screen average of $500.
This coming weekend Unhinged expands from 1,823 to more than 2,300 sites. Disney opens Fox superhero adventure New Mutants this week, while Warner Bros remains on track to launch Tenet in the US on September 3. Christopher Nolan's thriller debuts in most international markets this week and is scheduled to open in China on September 4.