Dir: Gary Chapman. US-UK.2005. 76 mins.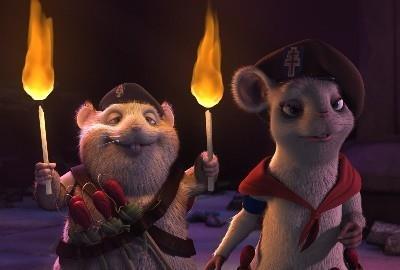 A charmingly old-fashioned tale of heroic Second World War carrier pigeons, Valiantis aiming for Chicken Run legs - but whether it truly has the wings tosoar internationally flies under a large question mark.
Valiant is a promising effort from a largely British team(it was made on a purpose-built lot at Ealing Studios); unlike its recentdigitally-animated predecessor, the Anglo-French co-production The MagicRoundabout, its makers Vanguard Animation have paid painstaking attentionto story and, a la Pixar, tried their best to craft a family-friendly yarnwithout a distracting odour of cynicism. With a $40m budget, it's a small butrefreshingly innocent crack at the family market.
But Valiant'slong-haul prospects could be damaged by the fact that this is a specificallyBritish yarn, especially when it comes to the wartime setting and ColonelBlimp-style derring-do. It's an odd mix; adults will appreciate this, but mayhanker for stronger, Pixar-style characterization; while children could missthe references and look for faster pacing and effects.
Nor are its prospects helpedby the fact that its voice lead, Ewan McGregor, is also voicing its biggestcompetitor, Robots.
But while Valiantdoes fly a wing-span short of its closest counterpart, Chicken Run, itscores for trying hard and will be rewarded by strong box office at home overthe Easter break and a long and happy life on ancillary.
Produced by Shrek'sJohn Williams, Valiant is the first film in a multi-picture NorthAmerican distribution deal between Vanguard and Disney. Odyssey Entertainmenthandled sales outside of North America, while Touchstone will release in theUS. It's a noteworthy, if low-tech, debut for the arrangement, made moreinteresting by the fact that Valiant marks director Gary Chapman's featuredebut.
Valiant is the name of ourheroic, wing-span-challenged wood pigeon (McGregor) who, inspired by somecharming wartime propaganda, soars off to London to join the Royal HomingPigeon Service (RHPS).
London's adults may cringeat the idea of pigeons re-populating Trafalgar Square - from which they haverecently been exterminated - but it's here where he meets the disreputableArtful Dodger-style Bugsy (voiced nicely by Ricky Gervais from the BBC's TheOffice).
Through a serious ofnot-terribly-fast-paced manoeuvres, the pair end up becoming part of the RHPS'slast attempt to fly vital documents back from France to Dover, braving theenemy's Falcon Brigade, led by Von Talon (Tim
Curry) on the way.
Other distinguished voiceappearances come via John Hurt as Felix, John Cleese as Mercury, Jim Broadbentas Sarge and the ineffable Hugh Laurie as Gutsy, the carrier pigeons'super-cool hero.
Poignancy comes in endcredits which inform children how real-life animals contributed to the wareffort.
Prod cos:Vanguard Animation Production, Ealing Studios,Odyssey Entertainment, UK Film Council, Take Film Partnerships
UK dist:Entertainment
Int'l sales:OdysseyEntertainment
Exec prods:Barnaby Thompson,Ralph Kamp, Neil Braun, Keith Evans, Robert Jones
Prod:John H Williams
Scr:Jordan Katz, George Webster,George Melrod from a story by George Webster
Ed: Jim Stewart
Music:George Fenton
Main cast (voice):Ewan McGregor,Ricky Gervais, Tim Curry, John Cleese, Jim Broadbent, Olivia Williams, HughLaurie, Rik Mayall