The full line-up of world premieres In Competition at Venice, with details on each title including sales contacts.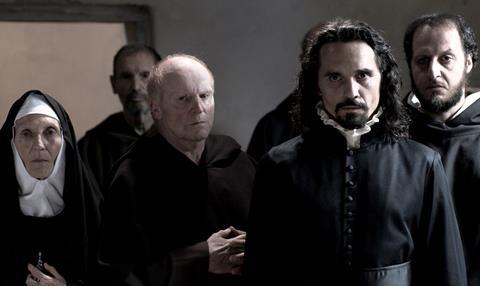 11 Minutes (Pol-Ire)
Dir Jerzy Skolimowski
This is Skolimowski's fourth film to play in competition at Venice, with the most recent, Essential Killing, winning the festival's Special Jury Prize in 2010. Irish actor Richard Dormer stars alongside Polish cast members Agata Buzek, Beata Tyszkiewicz and Mateusz Kosciukiewicz in this Poland-Ireland co-production, which follows the same 11 minutes in the lives of several characters.
Contact: HanWay Films, jls@hanwayfilms.com
Anomalisa (US)
Dirs Charlie Kaufman, Duke Johnson
Kaufman's first animated film, co-directed with Johnson, was funded by a Kickstarter campaign that raised more than twice its $200,000 target. The financing drive was launched by producer Starburns Industries in order 'not to be compromised by the Hollywood studio system'. Voiced by Jennifer Jason Leigh, Tom Noonan and David Thewlis, the film - adapted from Kaufman's stage play - focuses on a motivational speaker who is overcome by life's mundanity.
Contact: HanWay Films, info@hanwayfilms.com
Beasts Of No Nation (US-Ghana)
Dir Cary Fukunaga
A hot property following season one of HBO series True Detective, which he directed, Fukunaga spent seven years working on the script of this adaptation of Uzodinma Iweala's novel about an African child soldier. Shot in Ghana and starring Idris Elba as a local warlord, the film is Net-flix's first major theatrical acquisition. It will be released in 19 Landmark theatres in North America on October 16, the day of its worldwide Netflix debut.
Contact: Netflix, kbarragan@netflix.com
Behemoth (China-Fr)
Dir Zhao Liang
Chinese documentary-maker Zhao (Petition) continues to chronicle his homeland and its neighbouring nations with an exploration of the everyday reality of minority communities of Inner Mongolia. The film dissects the country's contemporary society and economic development, and provides a commentary on human imprudence and avidity.
Contact: National Audiovisual Institute, mgautard@ina.fr
A Bigger Splash (It-Fr)
Dir Luca Guadagnino
Guadagnino's I Am Love (2009) should have been in competition rather than the Horizons sidebar; Venice redresses that wrong with a top-tier berth for this thriller. Tilda Swinton and Matthias Schoenaerts play a couple whose island idyll is unsettled by the arrival of an old friend and his daughter (Ralph Fiennes and Fifty Shades Of Grey hot property Dakota Johnson). Fox Searchlight has US rights.
Contact: StudioCanal, pascale.hornus@studiocanal.com
Blood Of My Blood (It-Fr-Swi)
Dir Marco Bellocchio
Veteran director Bellocchio's latest offering Blood Of My Blood (Sangue Del Mio Sangue) is a vampire-themed period drama starring Alba Rohrwacher, who won last year's Volpi prize for best actress with her performance in Hungry Hearts, as a 17th-century noblewoman who becomes a nun and seduces a young army officer and his twin brother.
Contact: The Match Factory, info@matchfactory.de
The Clan (Arg-Sp)
Dir Pablo Trapero
Trapero has a good relationship with Venice, having won two prizes for his 1999 debut, Crane World, returning in 2004 with Rolling Family and sitting on the Golden Lion jury in 2012. The Argentinian film-maker is now in competition with this drama based on the real-life exploits of a Buenos Aires family who kidnapped and murdered their affluent neighbours.
Contact: Film Factory Entertainment, v.canales@filmfactory.es
Courted (Fr)
Dir Christian Vincent
Borgen actress Sidse Babett Knudsen stars alongside Fabrice Luchini (In The House) in Courted (L'Hermine), the story of a judge in the twilight of his career who is unexpectedly faced with a trial unlike any he has experienced. Writer-director Vincent's directing debut La Discrete, also starring Luchini, won the Fipresci Prize at Venice in 1990.
Contact: Gaumont, abuhl@gaumont.fr
The Danish Girl (UK-US)
Dir Tom Hooper
Fresh from his 2015 best actor Oscar, Eddie Redmayne stars as Danish artist Lili Elbe, one of the first known recipients of sexual reassignment surgery. Venice debutant Hooper directs this adaptation of David Ebershoff's bestseller, reteaming with Working Title, which partnered on the UK film-maker's Les Misérables and Redmayne's The Theory Of Everything.
Contact: Universal Pictures International, festivals.mailbox@nbcunicom
Desde Alla (Ven-Mex)
Dir Lorenzo Vigas
Billed as the first Venezuelan production to appear in Venice competition, Desde Alla concerns a middle-aged man (Alfredo Castro) who pays young boys to spend time with him. One day he befriends an 18-year-old delinquent (Luis Silva), a development that will affect them both profoundly. Vigas's feature directing debut is produced by Oscar-nominated screenwriter Guillermo Arriaga, who co-wrote the script.
Contact: Celluloid Dreams, hengameh@celluloid-dreams.com
The Endless River (S Afr-Fr)
Dir Oliver Hermanus
Hermanus's follow-up to 2011 Un Certain Regard selection Beauty is an English-language drama set in South Africa. Nicolas Duvauchelle (Polisse) stars as a French ex-pat who, after his family is murdered by a gang, starts an unlikely relationship with the sister of one of the suspects. Swift Films releases in France.
Contact: Urban Distribution, International frederic@urbandistrib.com
Equals (US)
Dir Drake Doremus
Kristen Stewart and Nicholas Hoult head up this futuristic thriller about a utopian society in which human emotions have been eradicated. Written by Moon screenwriter Nathan Parker and produced by Ridley Scott, Equals is the sixth feature by US film-maker Doremus, who won the Grand Jury prize at Sundance for his 2011 comedy Like Crazy.
Contact: Mister Smith Entertainment, jjones@mistersmithent.com
Francofonia (Fr-Ger-Neth)
Dir Alexander Sokurov
Russian Ark, which played in Cannes' Competition section in 2002 and sealed Sokurov's reputation, was filmed entirely at St Petersburg's Hermitage Museum. Now the 64-year-old Russian director turns his attention to Paris's most famous gallery. Subheaded 'The Louvre Under German Occupation', this feature - co-produced by the museum - explores the uneasy relationship between Louvre director Jacques Jaujard and Nazi officer Count Wolff-Metternich. Sokurov has described it as "an optimistic film".
Contact: Films Boutique, info@filmsboutique.com
Frenzy (Tur-Fr-Qat)
Dir Emin Alper
Alper's sophomore feature Frenzy (Abluka) centres on two brothers struggling to survive local political violence in Turkey. Mehmet Ozgur and Berkay Ates star. Alper's 2012 debut Beyond The Hill (Tepenin Ardi) proved a festival favourite, racking up awards in Berlin, Karlovy Vary, Istanbul and Sarajevo.
Contact: The Match Factory, info@matchfactory.de
Heart Of A Dog (US)
Dir Laurie Anderson
Performance artist, composer and musician Anderson makes her feature directing debut with this personal essay, commissioned by ARTE, in which she explores love, language and loss: the loss of her mother, her beloved dog Lolabelle and her husband, the musician Lou Reed who died in 2013. Venice director Alberto Barbera has called the film 'extraordinary'. Anderson's past connections to the film world include serving on the Berlinale jury in 1991, narrating features and documentaries and composing.
Contact: Celluloid Dreams, hengameh@celluloid-dreams.com
Looking For Grace (Aus)
Dir Sue Brooks
Brooks' drama stars Radha Mitchell, Richard Roxburgh, Terry Norris and rising talent Odessa Young in the story of a couple who enlist the help of a retired detective to find their free-spirited 15-year-old daughter after she runs away to see her favourite band. Brooks is the first Australian female director in Venice competition since Clara Law in 2000. Palace Films will release in Australia.
Contact: Fortissimo Films, info@fortissimo.nl
Marguerite (Fr-Cz-Bel)
Dir Xavier Giannoli
French writer-director Giannoli, whose 2012 comedy-drama Superstar also competed for a Golden Lion, returns to Venice competition with a story loosely inspired by the life of Florence Foster Jenkins. Catherine Frot stars as a Paris socialite and aspiring opera singer mistakenly convinced she has a beautiful voice.
Contact: Memento Films International, sales@memento-films.com
Per Amor Vostro (It-Fr)
Dir Giuseppe M Gaudino
Gaudino (Round The Moons Between Earth And Sea), one of four Italian directors to play in competition this year, returns to the Lido for the third time with the dark story of a tormented woman, played by Valeria Golino.
Contact: Rai Com, info@rai.it
Rabin, The Last Day (Isr-Fr-It)
Dir Amos Gitai
Calling this hot-button project his most 'substantial' film since Kippur, Gitai mixes fictional scenes with newsreel and amateur footage in this docu-drama following various characters on the day of Israeli prime minister Yitzhak Rabin's 1995 assassination by Jewish law student Yigal Amir, and the commission of inquiry that followed. The film is an Israel-France-Italy co-production between United King Films, Canal Plus, Rai Cinema, the Rabinovich Foundation and the Centre National du Cinema.
Contact: Indie Sales, festival@indiesales.eu
Remember (Can-Ger)
Dir Atom Egoyan
Egoyan tries his hand on the Lido with a promising proposition. Christopher Plummer stars as a Holocaust survivor who thinks he has found the person who killed his family in Auschwitz, and sets out for revenge. Martin Landau and Dean Norris also star.
Contact: IM Global, sales@imglobalfilm.com
The Wait (It-Fr)
Dir Piero Messina
There is quite a buzz around feature debut The Wait (L'Attesa) by Sicilian director Messina, who was Paolo Sorrentino's AD on This Must Be The Place and The Great Beauty. Juliette Binoche stars as a mother waiting for her son in an old Sicilian villa and rising French talent Lou de Laage plays the son's fiancée, who turns up instead.
Contact: Pathé International, themba.bhebhe@pathe.com