Film4.0, BFI and Creative England launch 'digital companion' My '45.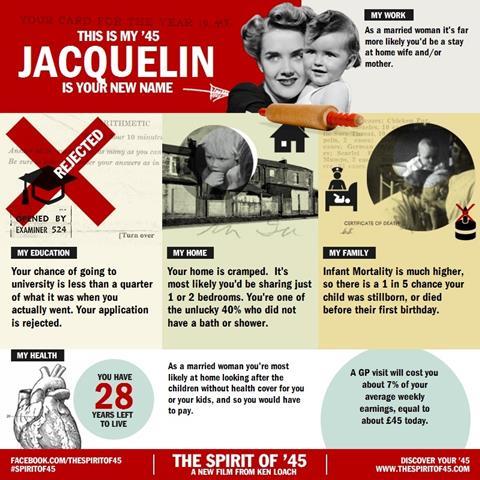 Film4.0, the BFI and Creative England are today launching My '45, a digital companion to Ken Loach's new documentary, The Spirit of '45.
The film is about the pivotal year in British history when a spirit of unity created a vision of a fairer society - including developments across health, housing and jobs.
The website aims to "transport audiences back to 1945 and reveal what their lives might have been like without the huge social changes of that era".
The digital experience can be found here: www.thespiritof45.com
The film had its world premiere at the Berlinale and will be released by Dogwoof in UK cinemas on March 15. Loach and other panelists will participate in a nationwide simulcast event on March 17.
My '45, which also includes extensive interviews and archive materials, was commissioned by Film4.0 and BFI and supported by Sixteen Films, Fly Film, Dogwoof and Creative England. It was developed and designed by Syndicut and The Project Factory.