Dir: David Keating. Ireland-UK. 2011. 90mins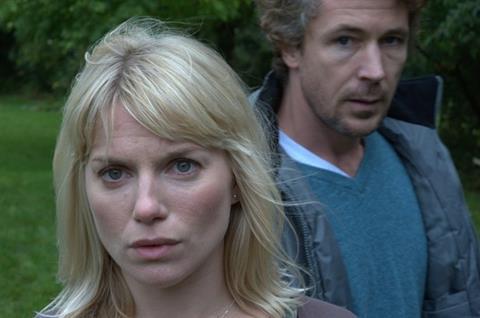 Irish-set horror film Wake Wood is a deliciously creepy chiller. Impressively old-fashioned with its tale of dark pagan rituals – it is closer to The Wicker Man than Saw - it makes great use of its spooky rural locations and is bolstered by a series of suitably serious performances that help bring to life the film's horrors.
Wake Wood remains a thoughtfully made horror-chiller.
The film, which premiered at the Jameson Dublin International Film Festival will likely attract savvy genre distributors and festivals, and should have a long dvd shelf life. Made by the venerable British horror company Hammer it should have the class the appeal to audiences, though whether it will appeal to younger audiences more used to stylishly shot blood'n'gore in the vein of Saw and Hostel remains to be seen.
Married couple Patrick (Aiden Gillen) and Louise (Eva Birthistle) move to the country village of Wake Wood a few months after the tragic death of their young daughter Alice, who is mauled by a dog. Patrick is a vet while Louise runs a local pharmacy.
Handily for them it turns out that Wake Wood also happens to have a thriving pagan community, headed by village elder Arthur (Timothy Spall), which has preserved a strange ritual that enables them to bring a person back from the dead for three days – as long as it is less than one year after their death – in order to say a final farewell to their loved ones.
Naturally enough Patrick and Louise leap at the opportunity, and after a little grave-digging back in Dublin, recover an item from their daughter's grave to enable the ritual. But there are strict rules…rules that they ignore as they enjoy the time with their daughter. When Louise discovers she is pregnant things take am even darker turn, and the villagers turn to the couple to take responsibility for their actions – but Alice is none too keen on returning to the earth.
While the story is all quite predictable, what helps set Wake Wood apart is the strong sense of location – the bleak and brutal farming settings help consolidate the feeling of dread – and strong performances from the leads. David Keating uses smart camera angles to help reinforce the unnerving atmosphere, and the night-time rural filming is nicely chilling.
Aiden Gillen and Eva Birthistle are nicely cast as the young couple, while Timothy Spall has great fun as the dapper village elder who takes charge of the bloodier aspects of the ritual. In truth the film is vaguely familiar to The Wicker Man – though Spall is no Christopher Lee and there is no equivalent naked Brit Ekland action – though it is made with a greater sense of dread. A bit of dark humour would have been appreciated, but Wake Wood remains a thoughtfully made horror-chiller.
Production companies: Hammer, Exclusive Films Distribution, Irish Film Board, Solid Entertainment, Film I SkaNE, Swedish Film Institute, RTE
International sales: Exclusive Films International, www.exclusivefilmsinternational.com
Producer: John McConnell, Brendan McCarthy
Screenplay: Brendan McCarthy, David Keating
Cinematography: Chris Maris
Production designer: John Hand
Music: Michael Convertino
Main cast: Eva Birthistle, Aidan Gillen, Timothy Spall, Ruth McCabe, Ella Connolly, Dan Gordon