China's Wanda Cinema Line and its subsidiary Movie Media Group are co-financing Paramount Pictures upcoming Teenage Mutant Ninja Turtles: Out Of The Shadows.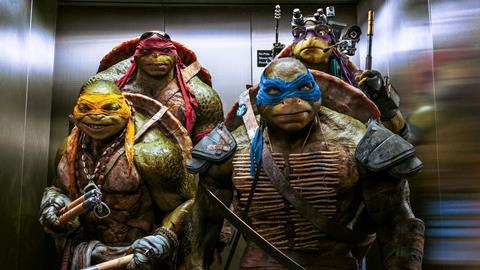 The deal marks the first time that Wanda Cinema Line has invested in a Hollywood film as a global investor, which the company said represents a strategic step in its international plans. China's Alibaba Pictures is also investing in the film.
Produced by Michael Bay's Platinum Dunes and directed by Dave Green. TMNT2 is scheduled for US release on June 3 and worldwide in the following weeks.
In a statement, Wanda said that Movie Media and CMM Films – a marketing subsidiary specialising in movie investment, localised marketing and integrated advertising – would spearhead Wanda Cinema Line's investment into Hollywood.
CMM Films previously worked with Paramount on the first Teenage Mutant Ninja Turtles, Interstellar, Terminator Genisys and Mission: Impossible Rogue Nation. It also worked on the marketing of Transformers: Age Of Extinction and Terminator Genisys.
Paramount vice chairman Rob Moore said: "The team at Movie Media, led by Mr Zhang, have showcased their tremendous marketing abilities on the launch of the first Teenage Mutant Ninja Turtles film and we are very pleased to be again collaborating with them on this next installment of the franchise."