Dir/scr: Ben C. Lucas. Aust. 2010. 96mins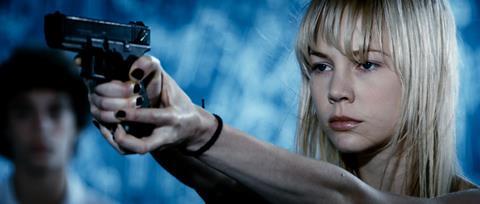 Debut director/writer Lucas makes a strikingly stylish impression with a tense high school drama that world premiered in competition at the Sydney Film Festival where it received an 'honourable mention' from the international judges. Packed with good-looking young actors — there's nobody over 18 in sight — an under-30s audience will respond well to this sex-obsessed, drink-and-drugs-fuelled story of school and internet bullying told with pop pace and visual panache.
It's a super-cool, handsomely assembled package with significant international box office potential.
Aided by flashy editing and a driving soundtrack of drums, rumbles and throbs, Lucas never lets his audience rest. There are plot twists, time dislocations and shock wish-fulfilment fantasies. It's a super-cool, handsomely assembled package with significant international box office potential.
All the final year 17-18 year-old kids at an expensive private school have smart phones, the latest in game-playing computers and very active Twitter accounts. "Text me," says pretty blonde Xandrie (Adelaide Clemens) and wide-eyed newcomer Darren (Oliver Ackland) knows he's in with a chance.
But Darren's smooth new stepbrother Zack (Alex Russell) is the school swimming leader, campus boss and drug supplier, and he's had his eye on Xandrie, too. The stepbrothers share their father's enormous, ultra-modern, house as a base for regular anything-goes parties. When Xandrie is slipped a 'date rape' drug Darren and Zack are on the way to becoming deadly enemies.
Adults are conspicuously absent from this movie — no parents, teachers or police appear to modify the increasingly murderous behaviour of the kids, who must live (and die horribly) by their own tribal rules.
This is a smartly assembled portrait of wealthy, wired teenagers armed with the latest communication equipment — everyone texts/phones/videos throughout — but unable to battle the school's corrupt power structure. With fast cutting, special effects and three attractive leads, especially the dazzling, increasingly busy Clemens, this is a brilliant beginning for movie-savvy Lucas.
Production companies: WBMC (Perth), Screen Australia, Screen West
International sales: Fortissimo Films, www.fortissimofilms.com
Producers: Janelle Landers, Aidan O'Bryan
Cinematography: Dan Freene
Production Designer: Sam Hobbs
Editor: Leanne Cole
Main cast: Oliver Ackland, Alex Russell, Adelaide Clemens, Kym Thorne, TJ Power, Geraldine Hakewill, Tom Stokes