Dir: Amir Amirani. UK. 2014. 104mins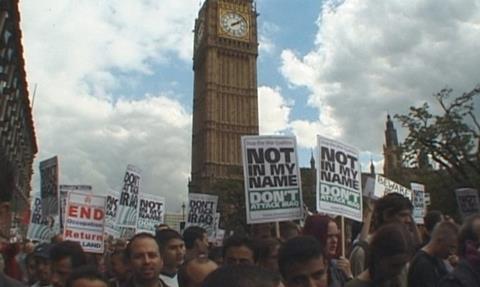 A striking and impressively constructed examination of how Bush and Blair used the 9/11 attacks to push through a war on Iraq and how public anger led to the largest mobilisation of ordinary people in history as some 36 million people around the world protested on February 15, 2003. It is a powerful and at times moving tribute to organised dissent and the power of the people.
It is a passionate and appropriately challenging film.
The film, which had its world premiere at Sheffield Doc/Fest makes for powerful viewing, and while somewhat less than balanced – its stance is very much with the protestors – it is admirably watchable and provocative.
Director Amir Amirani takes the familiar route of blending media and web footage with talking head interviews (which range from Swedish politician and weapons inspector Hans Blix and philosopher and activist Noam Chomsky through to musicians), initially detailing the background to the Iraq War.
Where the film really finds its heart and soul is when it comes to how the 2003 global protest against the decision to invade gathered momentum, with powerful and evocative footage of the series of marches on February 15 that gave home to ordinary protestors that they could sway political opinion.
Rather than focusing on the horrors of the war – though there are aspects there from time to time – the film dwells on the protest and how ordinary people came together in solidarity on such a massive scale. This does tend to give distance to the actual conflict itself (despite repeated footage of Bush and Blair twisting facts to create their justification) with the emphasis on the well-meaning protestors rather than the horrible realities of war.
But it is a passionate and appropriately challenging film. A fascinating side-product – according to interviews – was comments from those in Egypt who saw via media the massive protests and realised the power of public demonstrations, though this may be adding too much weight to the power of the protests. However, Amirani is to be congratulated for this passionate and provocative film that demonstrates what happens when people can be galvanised.
Production companies: Amirani Media, We Are Many Productions
International sales: Metro International, www.metro-films.com
Producers: Amir Amirani, Immy Hughes, Amanda Hickey
Co-producers: Jens Eilstrup Rasmussen, Iara Lee, Roger Ross
Executive producers: Taghi Amirani, Deborah Burton, Waël Kabbani, Omid Djalili, Kevin Gibson, Pippa Harris, Callum McDougall
Associate producers: Frances Stonor Saunders, Ho Chih Lin, Richard O'Brien
Editors: Adelina Bichis, Martin Cooper, Dan Ablett
Music: Barry Adamson, Alex Baranowski, Simon Russell, Enrica Sciandrone
Website: www.wearemany.tv