Dir: Burhan Qurbani. Germany. 2014. 123mins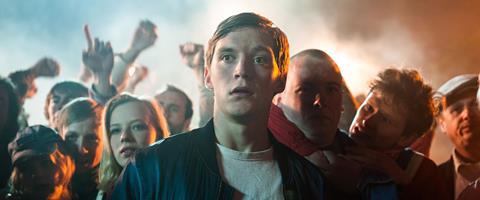 Four years after his underwhelming Berlinale debut Shahada, Burhan Qurbani is back, this time in competition at Rome, with a dramatised, multi-strand account of the anti-immigrant riots that shook the former East German port town of Rostock in August 1992. Though it suffers from some of the same problems as that earlier Muslims-in-Germany drama – chief among them the script's tendency to state the obvious, and a ponderously artsy mise en scene – this is still a more mature, thoughtful social drama outing for Qurbani, whose own status as the German-born son of an Afghan refugee couple adds a meta-cinematic twist.
The most interesting thing about the film is not the fact that it begins in black and white and then shifts, somewhat randomly, to colour just before the worst of the violence kicks off.
Set over 24 hours from the morning of 24 August - the day the riots culminated - We Are Young. We Are Strong (Wir sind jung. Wir sind stark) makes a show of realism, dividing the day up into clock-timed chapter chunks and – apparently – sticking more or less to the various accounts and TV archive footage of how things unfolded. But the result is a long way from the immediacy of a handheld, pressure-cooker historical drama like Bloody Sunday. What we get instead is as much introspective as tense, a portrait of three main characters or groups of characters living in uneasy limbo: a disaffected young hothead and his neo-Nazi or just plain nihilist friends; his father, a social democrat politician; and a young Vietnamese refugee woman torn between family and ethnic roots and her dream of a better future.
In Germany, where the events of Rostock still fester, the film should do a middling theatrical tour, with some interest also possible in adjoining territories where the presence of large immigrant 'dormitories' in depressed areas has caused tension and stirred debate. Here too the strong cast – chiefly the ever watchable Devid Striesow (Yella, The Counterfeiters) and Jonas Ney, something of a new Daniel Bruhl – will provide leverage.
Ney plays Stefan, an unemployed late teen who is first seen hanging out with his equally jobless friends in a van driven by this motley crew's ringleader, a rabid neo-Nazi whose name – Sandro – is part of the film's ironic (though not entirely articulate) discourse about problems of German identity and cruelty across ethnic divides. Lore discovery Saskia Rosendahl also impresses as a tough but mixed-up teen vamp who plays Stefan off against his impulsive scrapper of a best friend, Robbie (Basman).
Starter captions have already filled us in on the date – August 1992, three years after the fall of the Berlin Wall – and the background to the protests. Whipped up by the far right, with the tacit or open support of local residents, these were directed against the overcrowded asylum-seekers reception centre in Rostock-Lichtenhagen – in a bleak cluster of high-rise blocks named Sunflower House after the huge, desperately cheery mosaic that adorns one side of one of the blocks.
Here, petite but determined Vietnamese refugee Lien lives with her brother and his wife; she works in an industrial laundry alongside Sandro's girlfriend – one of several melodramatic script coincidences. Another is the 'surprise' revelation, around a third of the way in, that upwardly-mobile party apparatchik Martin (Striesow) is Stefan's dad. We don't need a speech from Martin's own father to tell us that sons often rebel by choosing whatever political colour is anathema to their fathers. But we get it anyway.
The most interesting thing about the film is not the fact that it begins in black and white and then shifts, somewhat randomly, to colour just before the worst of the violence kicks off. Neither is it the flashy camerawork, with Qurani and cinematographer Yoshi Heimrath's bag of tricks taking in Gods'-eye-view aerial shots, gyrating takes, long tracking shots and other showy devices. It's the portrait of a generation derailed by the collapse of the old socialist nanny-state values; weirdly, these youngsters with their tribal instincts and nostalgia for the food queues of the Honecker days have much in common with the oldies they profess to despise.
Far more invested in its disaffected youth than either of the other two plot strands – though Striesow's ethically exhausted politico is compelling enough in its way – the script shows that the xenophobia, emotional indifference and violence these youngsters display are already present in their group dynamic.
Production companies: UFA Fiction Ludwigsburg, ZDF/Das kleine Fernsehspiel, ARTE/Mainz cine plus Filmproduktion, UFA Cinema
International sales: Beta Cinema, beta@betacinema.com
Producers: Jochen Laube, Leif Alexis
Screenplay: Martin Behnke, Burhan Qurbani
Cinematography: Yoshi Heimrath
Editor: Julia Karg
Production designer: Jill Schwarzer
Music: Matthias Sayer, Tim Stroble
Main cast: Jonas Nay, Saskia Rosenthal, Devid Striesow, Joel Basman, David Schutter, Trang Le Hong