Rango king of the international box office last weekend, taking $24.1m from 5,214 screens; Japanese box office suffers.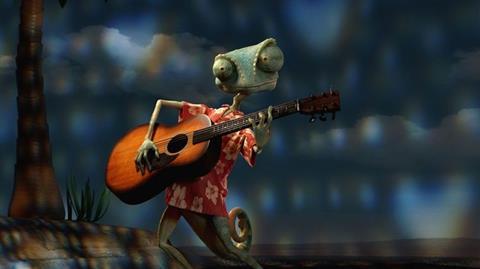 Rango's haul was the biggest on the international scene since SPRI/GK Films' The Tourist took $26.4m two months ago.
Now in its second week Paramount's animated-comedy is playing in 46 territories and has still to open in a slew of key markets, including Russia (March 17), France (March 23), South Korea (April 14), Italy (April 15) and Japan (April 23).
Battle: Los Angeles entered the chart in second place for Sony, grossing $16.7m from 3,091 screens in 32 territories.
Many commentators are comparing Battle: Los Angeles to the similarly themed Skyline from last year. Skyline opened on $10.7m in only seven territories last November and went on to gross $43m on the international scene, never reaching the number of territories Jonathan Liebesman's film is likely to cover.
The action-sci-fi reaches France and Brazil this weekend, Australia next weekend and Japan, Germany, Spain, Italy and Scandinavia in April.
The King's Speech continued to do tremendous business in its 12th week making a further $15m in a week-high 53 markets for $217m. The FilmNation/Weinstein release has made $47m more than Slumdog Millionaire in its equivalent week. Danny Boyle's smash spent 22 weeks among the top 40 international films on its way to $236m.
Torrente 4's colossal $11.7m opening in Spain has already secured the film 11th place on the country's chart of top local titles of the last decade.
FilmSharks' hugely popular crime-comedy franchise opened on a massive 665 screens in Spain, giving it the week's highest international screen average of $17,599. The debut was $4.5m more than Torrente 3: El Protector opened on in 2005.
The week's biggest top 20 improvers were Warner Bros.' The Rite ($8.5m for $36.5m) and Hall Pass ($5.3m for $8.3m), which leapt from 18th to seventh and 27th to tenth, respectively.
The only other top 20 newcomers were 17th-placed SP: The Movie: Part 2 which took $3.6m in Japan and Disney's 18th-placed Mars Needs Moms, which made $3.5m in 13 territories and reaches a handful of key territories in April.
The second in the SP franchise was hit hard by the recent catastrophe in Japan, taking considerably less than the first film in the franchise last year ($6.6m), with the whole market suffering from a reduced number of screens due to power outages and the effects of fuel and transport shortages. The top ten films in Japan took $8m less this weekend compared to last weekend, despite three significant openings.
Tangled was another of those three big openers to underperform as a result of the crisis, taking only $1.7m, a haul surely down on projections prior to the earthuake and tsunami.
US and local distributors will be bracing themselves for the effects of Japan's depressed market, with last-minute scheduling changes possible.
Local exhibitors including Toho and Warner-Mycal have closed cinemas in the Tohoku region due to safety concerns and rolliing blackouts. Warner Brothers Japan also pulled the release of Clint Eastwood's Hereafter due to disturbing scenes of tsunami destruction. Proceeds from the DVD and Blu-ray release will go toward disaster relief.