ScreenDaily brings you the weekly international box-office news.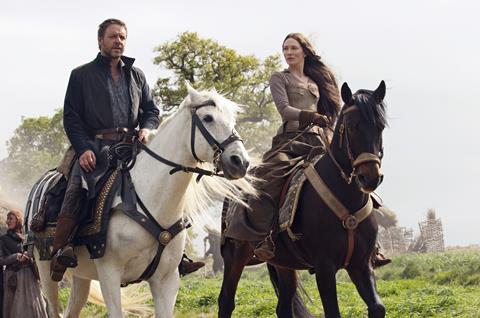 For the full Screen International Top 40 chart pleaseclick here.
Universal Pictures International's retelling of the Robin Hood story arrowed into top spot of Screen's international chart, grossing $70.1m on its first weekend overseas. The Ridley Scott film, which opened the Cannes Film Festival, played on 7,081 screens in 56 territories. Key 3-day results included the UK and Italy which accounted for a healthy $8.3m and $5.1m, respectively. Russell Crowe assumes the role of the expert archer who endears himself to the masses by taking on the corrupt Sheriff of Nottingham.
Highest non-US new entry this week was Mirovision's thriller The Housemaid, which generated $4.5m from 495 screens, in South Korea, its home territory. Im Sang-soo's latest film, which screened In Competition at Cannes, is a remake of a classic 1960 South Korean film, in which a predatory woman destroys the family that has employed her as a maid. The Housemaid recorded a decent screen average of $9,100.
Letters To Juliet, Summit International's US romance-comedy, took $995,000 from two markets internationally, alongside its $13.5m opening domestic weekend. Debuting at number 28 on the international chart the Italy set production will reach the UK, Germany, and Russia on June 9, 17 and August 19, respectively.
Here Comes The Bride
Star Cinema's Filipino comedy, Here Comes The Bride, is the fourth new entry on the international chart, grossing $933,100 on 88 screens. The film's $10,600 screen average was the highest of the top 40 films chart this week. In writer-director Chris Martinez's Philippines set production a five-car collision is the catalyst for five souls to switch bodies.