Screen asked the participants at the fifth-annual Developing Your Film Festival course what tips they took away from expert speakers and their peers.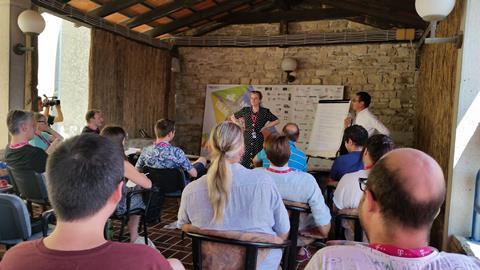 The Independent Cinema Office (ICO)'s fifth annual Developing Your Film Festival training programme, held in Motovun, Croatia in late July, is a unique workshop that helps film festival organisers, from programers to marketing experts, learn tools to build sustainable and thriving film festivals.
Sessions covered topics such as working with sponsors, developing a long-term strategic plan, developing audiences, working with the press, managing volunteers, and making best use of digital tools.
Speakers represented festivals include Goteborg, Toronto, Flatpack, Tallinn Black Nights and Sheffield Doc/Fest. The course is supported by Creative Europe - MEDIA and the British Council and run in partnership with the Motovun Film Festival and Vilnius International Film Festival.
The participants came from a diverse group of festivals, from shorts specialists to genre festivals to big audience festivals in major cities. The participants were from across Europe and also welcomed the first American festival to participate, the Loft Film Festival from Tucson, Arizona.
In recognition that festival experts rarely get the chance to come together on one dedicated programme, Screen asked some participants to share their best tips or inspirations from the course.
Christine Bernau, Short Film Festival Cologne — Unlimited
"The biggest inspiration for me was to swap experiences with international colleagues from other short film festivals, especially within our sessions about press and programming. Attracting local audiences with event programs was one interesting topic we discussed, which I can adopt for our program Shorts On Wheels, a bicycle tour where we show shorts about urban life and bike culture in open-air screenings. I also realized that in order to attract press we need to keep pushing for internationally renowned guests like Kevin B. Lee, who joined us in a discussion about remix & mashups in our programme New Aesthetic."
Eibh Collins, IndieCork Film Festival & Galway Film Fleadh
"It is rare that you get to meet a group of people who share the same career path and passion as you do. This, combined with speakers from A-class festivals and world renowned organisations, is an opportunity I will never forget. As film festivals grow in popularity it is hard to keep up with what is needed from us as coordinators but with DYFF I was taught the necessary skills to help grow my career. Specially as the digital demands grow I found our session 'Case studies from the digital realm' from Sten-Kristian Saluveer, Industry Director at Tallinn Black Nights Film Festival was an outstanding opportunity. The process of organising a festival is never easy but with his tech tips and recommendations I can see a far more production work flow for all my festivals in the future."
Damian Connor, Belfast Film Festival
"The most useful thing is meeting other festivals. All the issues we have are the same. Even a big festival like Toronto has similar issues."
Morvern Cunningham, Glasgow Short Film Festival & Future Shorts Glasgow and Edinburgh
"It sounds dull but one of things that I will work on is processes. I'm juggling a lot of things at the same time, I can use some streamlining and just strategizing a bit more. If you put in a strategy at the start, you can get more value as you're working. If you think, 'I've got too many emails, I'm too busy to strategise, I realise that's crap. You have to think about things, and getting away has helped me do that."
Johannes Hensen, Cologne International Film and TV Festival
"I am really a perfectionist and annually we put a great festival together. But in Motovun I learned from like-minded people, that there are still so many ideas and forms of innovation we can implement to make the Cologne festival even more amazing. I learned how important it is to work sustainably and that it is very important to maintain relationships to all stakeholders such as sales agents, the press, other festival organisers and guests to achieve the best results for the Cologne festival in a long term. One more specific thing is that I will try to create more benefits at our festivals for the international sales agents, directors and producers to be able to get more big names, high-profile films and international guests."
Louise Højgaard Johansen, CPH PIX
"'Make it personal' was something pointed out by communications and press experts, both when it comes to our PR and communication; to the international guests' experience of the festival, and to the local audiences as the festival grows over the years. This is really key to an audience festival like CPH PIX…Apart from covering many areas of festival production and promotion in the scheduled expert presentations, it strikes me how DYFF left us rich on new contacts from like-minded European film festivals. The participants' openness and willingness to share thoughts on future opportunities but also on the challenges we all face has been extremely rewarding."
Peggy Johnson, The Loft Film Festival
"My most valuable experience was meeting other festival organisers and finding solidarity with smart people who share enthusiasm, passion and creative approach to problem solving. My most valuable information was how to make sponsorships more impactful for sponsors, strategies for how to engage the media, and how to work with international sales agents for maximum results. Most startling fact: Barcelona has 110 film festivals!"
Nino Kovačić, ZagrebDox
"Having the opportunity to meet my colleagues from all over Europe and different festival contexts was invaluable for my own festival re-evaluation process. By taking the time and opportunity for it, this short but intense course gave me number of ideas, the most valuable ones in how to approach programming when having in mind audience development and targeting. Not in the sense of catering to the audience, which is not really possible at a documentary festival, but finally going into the process of getting to know who your audience actually is and working from there."
Xavi Lezcano and Josep Machado, Americana Film Fest in Barcelona
"As we're quite new in running a film festival we've learned lots of things and met interesting and great people here in Motovun. As our festival is quite new and with a small budget, we got some important ideas from Sten-Kristian Saluveer (of Tallinn Black Nights) in his workshop about industry markets. Sten shared with us some valuable tips on how to reduce expenses in collaboration with film industry or other festivals, for example creating synergies with a jury composed of sales agents."
Christian Modersbach, Nordic Film Days Lübeck
"IOC's seminar is the perfect platform for festival makers – never had so much competence and knowledge about the making of a festival in one room."
Imke Poeschel, Braunschweig International Film Festival
"Although each film festival is unique we all face the same problems and issues.Talking to all the different festivals and especially to Sten Saluveer from Talinn Black Nights will help me manage our new digital environment and festival project management software a whole lot better. It is good to know that other festivals also needed their time to establish new procedures and to alter the acceptance for change within their teams. This is one benefit I did not expect from participating in DYFF."
Eileen O'Shea, Cork Film Festival
"I loved the accessibility of the course in terms of its speakers. Every day you would get expert advice from industry leaders in a workshop setting and then be able to approach them to discuss things in more detail throughout the week. The mix of one-to-one and group learning was really helpful and made for a relaxed yet productive working environment. There was a very encouraging atmosphere created from all speakers and I was really able to find out specific info for my festival as well as learn what other festivals go through in a group setting. Excellent stuff!"
Elina Rislakki, Helsinki Short Film Festival/Finnish Film Contact
"One thing that I took away and have been thinking afterwards was from Flatpack festival.
Their festival (like I think most film festivals) is predominately white in terms of the audience. In order to have richer mix of people attending it's not enough to screen, for example, some Bollywood films. They have taken parts of their festival outside the city center in order to reach a wider audience. This fact that some audiences are more difficult to reach and you need to be creative if you want to get them involved. Sometimes we forget that programming is not enough – we need to change parts of the whole event and take a new approach."
Marc Troonen, L'Étrange Festival
"It was inspiring to discuss the many challenges (and opportunities also) of setting up an industry event for genre-oriented filmmakers with Sten Saluveer (Tallinn Black Nights Festival). We've toyed with this idea after launching the Nouveau Genre competition strand four years ago and it was just great to spitball ideas with someone who went through the same process. The landscape of genre filmmaking has radically changed and we think we can bring something valuable to this more dynamic environment. Exciting times, new opportunities and possibly new collaborations to look out for."
Richard Warden, Scottish Mental Health Arts and Film Festival
"It's such a diverse array of responsibilities that come with film festivals and whether or not one is in charge of the whole operation or one part of it. It's wonderful to have an a better understanding of what a wide variety of festivals do and how one's individual role relates to the whole. I have a better understanding of what my colleagues do now. I'm so focused on my role as a film curator that perhaps I didn't appreciate what people around me were doing pr the difficult choices they were making and not just demanding more time from what I want.
"Also, I came away from Motovun feeling that other festival programmers are not my competitors, but my colleagues. Much generosity was demonstrated through the sharing of advice, hard-won experience and many specific film suggestions. I'm certain that course participants will continue to bolster each other in that spirit well into the future."