Dir Dominic Sena. US. 2009. 101 mins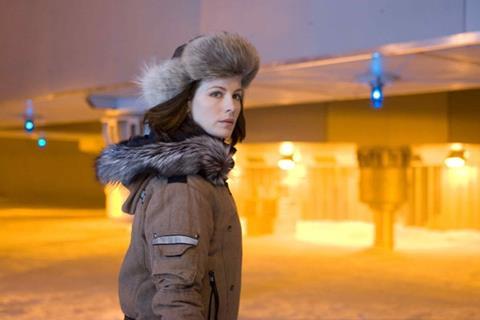 Two years after it was shot, Whiteout finally emerges as a lifeless graphic novel-based thriller whose only real distinguishing factor is its setting amid the frozen wastes of Antarctica. Kate Beckinsale's top billing should be a draw for younger males, but even her presence - playing a troubled cop on the snowbound trail of a mysterious killer - may not do much more than bump up DVD sales for this messy misfire from director Dominic Sena and Joel Silver's Dark Castle Entertainment.
Some confusing narrative jumps suggest that the film went through a lot of post-production tinkering
Warner Bros gives the film – first touted to the comic book crowd at Comic-Con 2007 – a wide North American release this weekend (Sept 11), with independent distributor Optimum also opening in the UK, where they may get some added leverage from local girl Beckinsale's name. Other international markets, mostly handled by Warner, follow through the autumn.
First introduced in a 1998 limited series comic book written by Greg Rucka, Carrie Stetko (Beckinsale) is the lone law enforcement officer at the US's Amundsen-Scott South Pole research station. Just as she's about to leave the isolated station - and the US Marshals Service - for good, Carrie discovers a mutilated body out on the ice.
This leads her to a distant Russian ice station and into the middle of a plot involving the wreck of a Cold War-era Russian plane, the plane's valuable cargo and a masked, ice axe-wielding killer.
The plot is sketchy at best and soon allows audience interest to flag. The only genuine intrigue comes in the story's last half hour, when Carrie has to work out which of the men remaining on the base after a storm evacuation is the murderer.
Attempts by screenwriters Jon and Erich Hoeber (Montana) and Chad and Carey W Hayes (The Reaping) to add character background to the mix mostly fall flat and some of their hackneyed dialogue induces unintended laughs. The incident that drove Carrie away from civilization is revealed in a teasing series of flashbacks but it doesn't tell us anything very interesting about the woman behind the badge.
Her friendship with the station doctor (played by craggy veteran Tom Skerritt) doesn't come to much and a UN investigator (Gabriel Macht) who appears at the scene of the crime (supposedly because of fears that the plane's cargo might be nuclear bomb material) proves to be a weak dramatic foil.
Sena, whose last feature was 2001's Swordfish, delivers a fairly exciting plane crash sequence to open the action but never finds the kind of rhythm or momentum that can sometimes bring even a conventional thriller to life. Some confusing narrative jumps and odd looking close-ups suggest that the film went through a lot of post-production tinkering.
Beckinsale (most recently seen on the big screen in specialised drama Snow Angels) is unconvincing and oddly subdued as no-nonsense law woman Carrie. And fans of her sexy Underworld films are likely to be disappointed by the fact that here she gets only a single - and entirely gratuitous - underwear scene.
Among the rest of the supporting cast members, Australian actor Alex O'Loughlin, from cult TV vampire show Moonlight, is curiously underused as a cocky ice station pilot.
The film's setting turns out to be a mixed blessing. It allows the inclusion of some spectacular aerial shots of majestic ice-scapes (though the exteriors involving actors were actually shot in Manitoba, Canada) but it also makes some action scenes tricky to follow since the actors are all swathed in cold weather gear.
Production companies
Warner Bros Pictures
Dark Castle Entertainment

Worldwide distribution (excluding UK, France and some smaller markets)
Warner Bros

Producers
Joel Silver
Susan Downey
David Gambino

Screenplay
Jon Hoeber & Erich Hoeber
Chad Hayes & Carey W Hayes
Based on the graphic novel by Greg Rucka

Cinematography
Chris Soos

Production design
Graham 'Grace' Walker

Editors
Stuart Baird
Martin Hunter
Music
John Frizzell

Main cast
Kate Beckinsale
Gabriel Macht
Tom Skerritt
Columbus Short
Alex O'Loughlin