Shooting in Eastern Europe could become cheaper than ever as facilities compete for international business to reverse the slowdown caused by the credit crunch and exchange-rate fluctuations.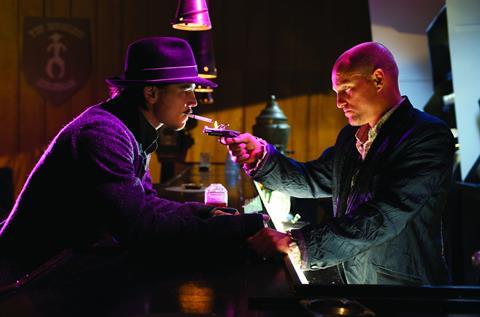 The financial crisis has manifested itself in Eastern Europe as idle crews and stages. "This has been a terrible year," says US producer Rick McCallum from the Barrandov set of Lucasfilm's Red Tails in Prague. "There are people who haven't worked for six, eight, nine months."
Zentropa set up Lars von Trier's Antichrist as a Polish co-production through Zentropa International Poland and accessed $300,000 of its $7.9m budget from the Polish Film Institute
Service companies throughout the region are feeling the bite and are aggressively courting productions. US producer Ram Bergman shot the action drama Bunraku starring Demi Moore and Josh Hartnett in Romania last year and is now eyeing Eastern Europe for a new project. "I'm talking to people in Romania, Bulgaria and Serbia and they are becoming even more aggressive in terms of what they're offering," he says.

Hungary's doldrums, brought on by EU challenges to its tax rebate and the threat of a SAG strike, started to lift even as the credit crisis struck.

While international feature film production has taken a hit, producers have been working on a slew of UK-US TV productions, including BBC TV's Robin Hood and Scott Free's Pillars Of The Earth.

Poland attracts few big film shoots but does offer significant financing to qualifying international co-productions via the Polish Film Institute (PFI).

Zentropa set up Lars von Trier's Antichrist as a Polish co-production through Zentropa International Poland and accessed $300,000 of its $7.9m budget from the PFI.

In Bulgaria a steady stream of Nu Image/Millennium productions use Nu Image's Sofia studios. But the Nu Boyana facility is not limited to its own productions and is hosting Peter Weir's Siberian gulag drama The Way Back for Scott Rudin, Lionsgate's Conan and Sony Pictures' Universal Soldiers: The Next Generation.

There are signs that business in Romania is picking up. Flagship Films' William Tell: The Legend will shoot at Castel Film, as will Liberty Studios' Glass House, about a Swiss diplomat who helped Hungarian Jews escape the Holocaust. Media Pro has lined up Claude Lelouch's Ces Amours La, and the Russian-backed production Babi Yar, to be directed by Barry Levinson, is also shooting in the territory.

Footloose international productions are looking for every advantage since fluctuating exchange rates have played havoc with its budgets. "The currencies were an absolute nightmare, going up and down on a daily basis,"
says UK producer Paul Berrow of shooting the $25m Solomon Kane in Prague in 2008. "You can't have a strong currency and no rebate."

Solomon Kane was budgeted in 2006 in US dollars, and during the film's four-month shoot two years later, the Czech crown rose rapidly against the US dollar. "When we started work on Soloman Kane, the Czech crown was 23 to the dollar," says Prague-based producer Kevin Van Thompson.

"By the time we were shooting, when the higher costs were coming, the rate had dropped to 18 to the dollar." The production spent $12m in the Czech Republic.

However, Hungary's 20% rebate for visiting productions remains the only real financial incentive in the region. Politicians elsewhere, particularly in the Czech Republic, have not responded to calls for more support, or to new incentives in France and Italy.

Czech-born director Milos Forman is even understood to be heading to Paris to shoot The Ghost Of Munich, about the 1938 Munich summit which gave part of Czecho­slovakia to Nazi Germany.
HUNGARY
Budapest is bouncing back after a year when the value of international production plummeted to $23.4m (huf4.8bn)from $86.1m (huf17.7bn) in 2007.
Producers are drawn to Hungary by a better-than-ever tax incentive and high production values
Atlas Entertainment received a SAG waiver for the $20m period fantasy thriller Season Of The Witch, which allowed it to shoot with Nicolas Cage and Ron Perlman through the winter of 2008 in Hungary and Austria. Miramax and MARV Films' The Debt shot in Budapest for several weeks this spring.

Further productions expected this year include Plum Pictures' The Whistleblower, Good Films' The Great Ghost Rescue and Focus Features' The Eagle Of The Ninth.

Producers are drawn to Hungary by a better-than-ever tax incentive and high production values. "We looked at how to mount this picture and how to get the most value on the screen," says Alex Gartner, the US producer of Season Of The Witch.
"Hungary suits our purposes for two reasons ― one is aesthetic and the other is financial,"

Duncan Kenworthy, producer (UK)
London-based producer Duncan Kenworthy has chosen Hungary for portions of Focus Features' Roman legion story, The Eagle Of The Ninth. Directed by Kevin Macdonald, the film will shoot for four to five weeks in Hungary from the end of August.

Two-thirds of the film is set in Scotland, where the film will shoot ― and access the UK tax credit ― while Hungary stands in for 2nd century England.

The producer found undeveloped countryside within 40 minutes of Budapest, and inexpensive extras for a large battle scene.

Kenworthy scouted Romania and spoke to producers who had shot in the Balkans, before deciding on Hungary. "It suits our purposes for two reasons ― one is aesthetic and the other is financial," Kenworthy says. "The tax credit helps it considerably, but it wouldn't have been enough. Aesthetics have to come first or equal first, in the sense that if the rebate wasn't there, we might have cast our eye further afield."

Unlike incentives in the UK and Germany, the Hungarian rebate can now be applied to expenses incurred outside the territory. A change to the Hungarian tax law allows for a rebate of 20% of production spend outside Hungary, provided the invoice is issued by a taxable Hungarian entity, such as a production company.

Season Of The Witch applied the rebate to the Austrian portions of its shoot. "Hungarian crew, per diems, equipment you've rented in Hungary and are using elsewhere ― all those apply to the Hungarian spend. The only thing that doesn't apply is hotels and things like that," Gartner says.

But producers say the Hungarian rebate does not always result in the lowest-price option. Ram Bergman has shot two productions in Eastern Europe in as many years ― avoiding Budapest. "Hungary has a tax credit but it's still more expensive than the other options that don't have a tax credit. You get 20% but you still have to deal with the bureaucracy of getting the 20%."

Producer Rick McCallum considered Hungary for Second World War drama Red Tails, starring Terrence Howard and Cuba Gooding Jr, but says a Hungarian shoot posed the risk of running over budget or behind schedule. "[The Hungarian crews] don't have the skill set yet. That's why they have the tax incentives ― to create an industry that attracts films," McCallum suggests.

CZECH REPUBLIC
International production in the Czech Republic has suffered. Incoming productions spent $108.6m (czk2.1bn) there in 2007, the most recent year for which figures are available, up from 2006 but still far below the 2003 peak of $258.5m (czk5bn) in 2003.

Nikita Mikhalkov was recently in Prague for 10 days of filming on Burnt By The Sun 2 and European co-production Henri IV shot in the country earlier this year. But this spring's production of Red Tails is the first major film to shoot in the territory since Paramount's GI Joe: The Rise Of Cobra last summer.
Nikita Mikhalkov was recently in Prague for 10 days of filming on Burnt By The Sun 2
The continued lack of incentives is frustrating for producers who are otherwise happy with Czech locations and crews. Still, Paul Berrow says the decision to shoot Davis-Films' Solomon Kane in Prague in early 2008 was an easy one. "You look at skill sets, make sure you can get some decent food, decent security and, let's face it, you don't arrive at that many places," Berrow says.

"I'm sure it cost us more money [to shoot in Prague compared to elsewhere in the region] but it meant the creative process was better supported."

McCallum likewise bristles over the continued lack of incentives and what he calls "the absolute thick-headedness of the Czech government in understanding how important the 3,000 to 5,000 people who work in the Czech industry really are."
"I'm sure it cost us more money [to shoot in Prague compared to elsewhere in the region] but it meant the creative process was better supported"

Paul Berrow
For McCallum, Prague still offers the best value, especially for an independent production such as Red Tails, which he says will spend $11m in the Czech Republic in six months. The majority of the crew was Czech, including many of the department heads.

"The story takes place in Italy but Italy is too expensive for me," says McCallum. "To shoot in Italy would have been 35%-45% more expensive than in the Czech Republic and Croatia. I could get a 20% tax rebate out of Hungary but I'd end up bringing 40 or 50 people from England or from the Czech Republic."

Lucasfilm would like to bring a $150m, multi-year production of a Star Wars TV series to the Czech Republic, but McCallum says he must consider the costs. "I have three indicators for me ― currency exchange, talent and the overall ease of where I can make a movie with English and American actors and a great crew."