Dir/scr: Arvin Chen. Taiwan. 2013. 104mins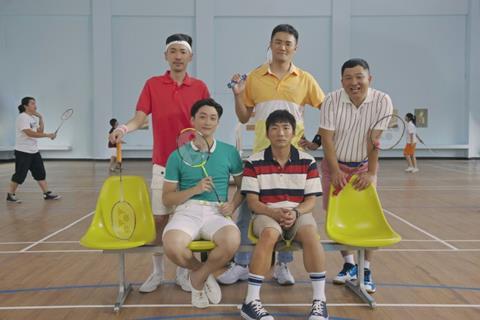 A warm flourish of music over a vista of Taipei rooftops opens Will You Still Love Me Tomorrow? with the sense we're in early Woody Allen territory - an impression borne out by the film's whimsicality and quirky love predicaments. But this Taiwanese romantic comedy develops with its own anti-conventional twists, being the coming-out story of a married man conflicted over whether to return to the gay life he had before marrying.
Whimsical flights into fantasy punctuate throughout.
It's the second feature from Arvin Chen, whose debut Au Revoir Taipei - another lighthearted, slightly off-kilter rom-com - saw moderate festival success. While there's much to endear it (it has its heart in the right place in its good-natured assault on societal hypocrisy, and is buoyant with frothy quirks) it lacks the memorable bite to have much cross-over potential beyond its territory and niche festivals.
Weichung (the huge-in-Asia Richie Jen) is an optometrist whose marriage to office worker Fen (Mavis Fan) seems smooth on the surface. But her desire to have another baby with him brings their sex life (or lack of it) into sharp focus for both of them, making it impossible for her amiable, diffident, husband to repress the issue any longer.
Weichung's chance meeting with old acquaintance Stephen (Lawrence Ko, who steals all the scenes he is in), a wedding photographer and homosexual, prods his restlessness further when, ribbing him he looks "fat as a pig, and so straight", he invites him on a night out. Drunken fun on the bubbly Asia-pop dance floor of gar bar Delight - a recurrent hangout throughout the film - sees his tentative renaissance with his own sexual identity fully ignited. When a handsome young flight attendant comes into his store for new glasses, he starts seeing him behind Fen's eventually suspecting back.
Meanwhile, Weichung's sister Mandy (Kimi Hsia) is grappling with cold feet about her imminent wedding to San-San (Stone) - which comes to a head when she abandons him on a supermarket expedition to Carrefour. This parallel story thread offers another variation on Stephen's observation - and the film's tritely packaged message - that the happy images of wedding portraits are a simplified ideal. As Stephen pep-talks the lovelorn men around him, moping Mandy also finds a supportive ear in the imaginary form of a hunk in a powder-blue blazer from her favourite daytime soap - who appears on the sofa beside her among her glumly piled-up pot-noodle tubs.
Such whimsical flights into fantasy punctuate throughout - kissed on the cheek by his secret amour, Weichung floats on an endorphin rush and soaring music up in the sky toward puffy clouds – and emotion ramps up a notch toward serious drama in a confrontation scene between Weichung and Fen, but the feel-good quotient soon reasserts itself in this airily toothless fun.
Production company: 1 Production Film
International sales: Media Asia Film, www.mediaasia.com/
Executive producer: Lee Lieh, Roger Huang
Screenplay: Arvin Chen
Cinematography: Hsia Shao-Yu
Editor: Justin Guerrieri
Music: Hsu Wen
Main cast: Richie Jen, Mavis Fan, Stone, Kimi Hsia, Lawrence Ko