Dir/scr: Geoff Davis. Australia. 2014. 106mins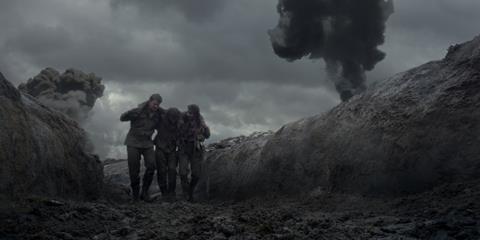 In this centenary year, dramas concerning The Great War proliferate on screens both public and domestic. Any new entrant needs an angle. This brashly melodramatic Aussie movie packs plenty of frontline trench horrors, bayonetting and exploding faces, and then adds an after-show of bush heroics versus evil bushrangers. It's a double bill of adventures linked by young Billy Kelly, a sniper whose never-miss marksmanship could well be of interest to producers of comic-book style adventures.
Director Davis drives his tale with vigour and plenty of hit-or-miss digital effects.
In a family collaboration, director Geoff Davis constructed the script with his sons Josh and Matthew who then played brothers Billy and Jack. Much of the film was shot in the back paddock of the Davis country farm. Premiered at the Cannes market in May (it was previously titled The Stolen), it gets a strictly targeted (mainly rural) home theatrical release from October 30. Television would be its ideal destination were it not for a high and graphic slaughter count.
Opening on New Year's Eve 1914, the Kelly siblings — Billy, Jack and Jess (Ella McIlivena), together with their cheerful cousin Paddy (Lachlan Hume) — are running happily through the beautiful tropical bushland of their family property in Queensland. Billy shoots a distant kangaroo for dinner. Solid Dad (Tony Bonner) and loving Mum (Helen Davis) watch in stoic pride as the three boys eagerly join the army to avenge the assassination of Archduke Ferdinand. Fear not, "they'll be home by Christmas".
While the battle action moves through ever-more-muddy, ever-more-bloody encounters from Gallipoli to Fromelles and Ypres, so we get intercut scenes in Australia establishing a group of hairy bushrangers taking advantage of undermanned farms.
By the time Billy and Paddy (hooray!) have won medals for their fearless endeavours, the bushranger gang (boo!) have — among other dastardly deeds — kidnapped and molested sweet Jess. Billy returns home for further heroics and a blood-soaked finale.
Director Davis drives his tale with vigour and plenty of hit-or-miss digital effects. The cast may be in unlikely dental health and too well fed for wartime deprivations, but all go at their considerable physical challenges with a will. Composer Phil Lambert supplies stirring themes and weeping strings to underscore the insistent melodrama.
Production companies: Avalon Films, Fragile Films
Australia/NZ distribution: Flying Bark Productions, StudioCanal
Producer: Phil Avalon
Executive producers: Kevin Jones, James Vernon
Cinematography: Damien Beebe
Editors: Andrew Knight, Digby Hogan
Production designer: Alex Hullah
Music: Phil Lambert
Main cast: Josh Davis, Matthew John Davis, Lachlan Hume, Tony Bonner, Helen Davis, Ella McIlivena, Maureen Alford