Dir: Zach Braff. US. 2014. 113mins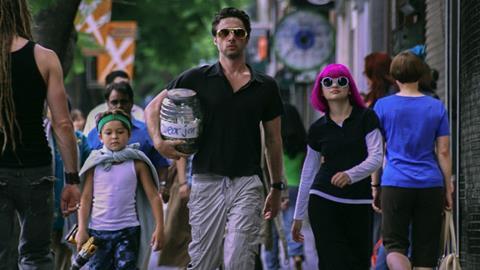 Hopelessly self-indulgent and increasingly sappy, director-star Zach Braff's Wish I Was Here parades its emotional sincerity with such conviction that, eventually, one succumbs to this comedy-drama's tear-jerking assault, even if at the same time acknowledging the movie's navel-gazing limitations. An examination of mortality and the struggles of parenthood, Braff's first directorial effort since 2004's Garden State, which like Wish I Was Here premiered at the Sundance Film Festival, appears destined to divide audiences, moving some viewers while infuriating others. Experiencing both sensations during the film seems the most appropriate reaction.
The mawkishness is helped by Braff's performance, which can be frustratingly broad during the movie's comedic stretches but nicely reserved when tears start to flow near the finale.
Generating headlines because a healthy portion of its reported $5m budget was raised through Kickstarter, Wish I Was Here should do well with the same audiences that embraced Garden State a decade ago, and a cast that features Kate Hudson, Josh Gad and Mandy Patinkin will appeal to different generations of filmgoers. (Also working in Wish I Was Here's favour is that Braff's new film has a broader appeal than Garden State's twentysomething-skewing demographic.) Expect reviews to run the gamut, but the film's word-of-mouth champions could prove more valuable than critics' positive notices.
Set in the Valley north of Los Angeles, Wish I Was Here tells the story of Aidan (Braff), who's married to Sarah (Hudson) and feeling lost because his acting career has plateaued of late. Lacking the financial wherewithal to keep his two children (Joey King and Pierce Gagnon) in private religious school and discovering that his father (Patinkin) is dying of cancer, Aidan finds himself at a crossroads, wondering what his family's future will look like.
Although Braff plays a different character in his new film, it's not hard to imagine that Wish I Was Here is a pseudo-sequel to Garden State: Where that film examined the angst-ridden problems of a twentysomething, this new effort fast-forwards 10 years later when this sort of man-child has settled down and had some kids. The angst — and the self-absorption — remain, however, and one of Wish I Was Here's most irksome qualities is how Braff seems unaware that Aidan's concerns (with the exception of his dad's approaching death) are largely mild. One wishes that Braff, who co-wrote the script with his brother Adam, was self-aware enough to zing Aidan's moping rather than coddling the character's woes.
But for better or worse, Braff as a filmmaker has again demonstrated that he's not much interested in satire or irony: He deeply cares about his characters, and the sensitive conversations they have with one another have their rewards in Wish I Was Here, touching on universal issues such as tensions between fathers and sons and the anxiety associated with having to make do when one's dreams don't quite work out.
Consequently, Wish I Was Here works far better as a drama — or, more accurately, as a three-hankie melodrama — than as a comedy. Hoping for a sassy, "inappropriate" tone, Braff goes for laughs through wan setups like having Aidan try to home-school his children or spoofing the elders of his kids' strict Jewish private school. (There are also anaemic jokes about Comic-Con and Sarah's workplace drudgery.) Most of this feels strained, with Braff showing far more ease navigating his story's heartfelt emotional terrain.
Much of the later reels are devoted to Aidan's father's inevitable death — as well as Aidan's strained relationship with his nerdy loner brother Noah (Josh Gad) who wants nothing to do with their dad — and it's true that Wish I Was Here doesn't have much novel to say about aging, family or finding oneself. (Additionally, there is a repeated fantasy sequence throughout the film in which Aidan imagines himself a heroic knight, an obvious device to illustrate the character's desire to escape from the difficulties of his reality.) And yet, the intensity of feeling that Braff brings to the material is such that, trite as it might be, there's a lovely, potent warmth that Wish I Was Here radiates. As sappy as this movie may be, Braff has again shown that he's a skilful sentimentalist.
The mawkishness is helped by Braff's performance, which can be frustratingly broad during the movie's comedic stretches but nicely reserved when tears start to flow near the finale. Likewise, Hudson (who does get saddled playing a character who mostly has to support her husband's dreams) delivers some of her finest onscreen moments in far too long, lending Sarah a depth that's not necessarily evident in the script. Likewise, Patinkin elevates what could have been a standard dying-father character into something far more moving and measured, giving the act of dying a grace and dignity that so rarely occurs in the real world. It's a testament to Braff as a filmmaker that while he may still have his blind spots as a storyteller, he's able to coax strong, affecting performances out of his actors.
But the real revelation is Joey King, a young actress who's been busy of late in movies like White House Down, The Conjuring and Oz The Great And Powerful. She plays Aidan's older daughter Grace, a cringe-worthy name for a character who's full of religious faith and simple goodness. But King sidesteps the clichés, giving us a bright young girl who observes the flaws in her family and finds the right thing to say at the important times. King exudes a naturalness that the movie's emotional crescendos desperately need — she's calm and direct when Wish I Was Here is sometimes erratic and undisciplined.
Production companies: Double Feature Films, Worldview Entertainment, Second Stix Films
International sales: Wild Bunch, www.wildbunch.biz
Producers: Stacey Sher, Michael Shamberg, Zach Braff, Adam Braff
Executive producers: Christopher Woodrow, Molly Conners, Maria Cestone, Sarah E. Johnson, Hoyt David Morgan
Screenplay: Adam Braff & Zach Braff
Cinematography: Lawrence Sher
Production designer: Tony Fanning
Editor: Myron Kerstein
Music: Rob Simonsen
Main cast: Zach Braff, Donald Faison, Josh Gad, Pierce Gagnon, Ashley Greene, Kate Hudson, Joey King, Jim Parsons, Mandy Patinkin, Michael Weston