Dir/scr: Lowell Dean. Canada. 2014. 80mins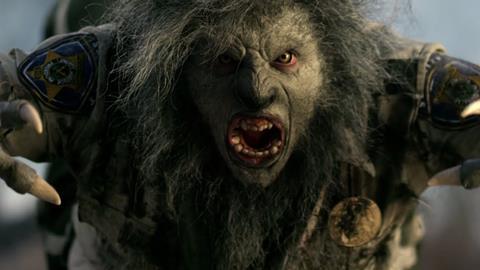 WolfCop is a real genre movie pleasure. Bloody, funny, action-packed and pretty smart, it may never really offer up anything massively original to the long line of werewolf films that go before it, but it is made with real relish for horror rules, has more than a few clever twists and never shirks when it comes to layering on the gore.
The film relies on old-fashioned special effects work rather than CGI, which gives it a refreshingly old-fashioned spin.
Already something of a cult item thanks to its savvy marketing campaign and strong word-of-mouth from its Cannes market screenings, WolfCop opens in Canada on June 6 and while likely to be a fixture at genre festivals it should also be picked up by niche distributors. It may well lack a name cast to ease release, but a strong trailer and good reviews will aid international distribution.
The opening credits hint at the wolf/occult fun to come before focusing hard and fast on bumbling and boozy cop Lou (Leo Fafard) waking drunkenly, taking a slug of booze and ambling to his cop car. The fact that he manages to drop his handgun under the car hints at the slick sense of humour that drives the film.
A cop in the snowy town of Woodhaven, his drive to the office sets the scene. The town is rife with crime and on BAD radio he listens to excitement for the upcoming "drink 'n shoot' annual hunting bonanza where hunters arrive in town to look out for the legendary Woodhaven walking bear. Lou spends his spare time at the Tooth & Nail bar, but after an incident in the woods he wakes with an occult symbol carved on his chest; a heightened sense of hearing and is somewhat hairier than before.
That evening as the full moon approaches he is propping up the bar chatting to sexy waitress Jessica (Sarah Lind) when he feels ill and has to rush to the basement toilet. His transformation begins – rather amusingly the first part of him to change is his penis – and ends up in a very one-sided fight with hooligans sent by a local gang leader (Jesse Moss).
The film smoothly blends gore with gags, and really finds its feet when Lou manages his transition and declares himself WolfCop, with plan to fight crime his own special way. Facing up to one robber who asks: "Who the fuck are you," his response is simply… "The Fuzz!" He even finds time to pimp his cop car into a crime-fighting wolf mobile.
There is plenty of horror violence (a face is ripped off, heads pulled off and an eyeball stabbed) and sex (WolfCop and Jess, sporting a Red Riding Hood look, get in on in the police cells) before WolfCop has to face up to an occult conspiracy involving three shapeshifters that offers more than a few clever twists that turns aspects of the story on its head.
The film relies on old-fashioned special effects work rather than CGI, which gives it a refreshingly old-fashioned spin. Writer/director Lowell Dean shows a sure hand with the effects and action, but best of all there are enough laughs to balance with the blood-letting. Leo Fafard is perfectly cast as the alcoholic policeman while Amy Matysio, as his fellow cop, gets better as the film develops and really comes into her own in the final action scenes. WolfCop is a slick and darkly amusing film that will cheer up horror fans keen for a blend of gags and gore.
Production company: Echolands Creative Group
International sales: Raven Banner Entertainment, www.ravenbanner.ca
Producer: Bernie Hernando, Deborah Marks, Danielle Masters, Hugh Patterson
Executive producers: Sean Buckley, J. Joly, Bill Marks, Brian Wideen, Brad Pelman
Cinematography: Peter La Rocque
Editor: Mark Montague
Production designer: Justin Ludwig
Website: www.wolfcop.com
Main cast: Leo Fafard, Amy Matysio, Jonathan Cherry, Sarah Lind, Aidan Devine, Jesse Moss, Carinne Conley