JUNE 2 UPDATE: Warner Bros tentpole opened in additional 32 markets on Thursday. Pirates 5 nears $300m international mark.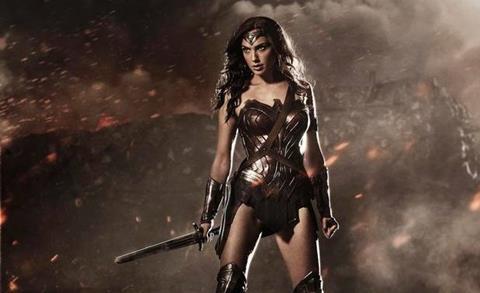 Warner Bros and DC Entertainment's Wonder Woman has raced to $18.7m from a total of 37 markets in its first two days of release. Combined with $11m Thursday previews in North America, the film stands at $29.7m worldwide.
The superhero tentpole directed by Patty Jenkins and starring Gal Gadot added $12.1m internationally on Thursday after launching in a further 32 markets, including an unusual Thursday debut in the UK, where it grossed $1.6m. Brazil delivered $1m, rising to $1.5m including Wednesday previews.
The Philippines produced $971,000 for Warner Bros' third biggest opening day behind Batman V Superman: Dawn Of Justice and Man Of Steel. Russia generated $884,000 for second place, while Australia produced $837,000 for a number one ranking.
On the second day Indonesia generated $1.3m for an early $2.1m running total, and South Korea produced $818,000 for $2m. Wonder Woman arrives in a further 17 markets on Friday including China and Mexico.
Thursday's $11m North American previews set a record for a film directed by a woman.
JUNE 1 REPORT: Warner Bros Pictures International and DC's Wonder Woman currently stands at $6.3m after two days of international release.
Asia is dominating the marketplace with solid debuts in Taiwan, Hong Kong, Korea, and Indonesia.
Warner Bros opened Wonder Woman on a non-traditional Tuesday in Taiwan and Hong Kong to take advantage of the Chinese Dragon Boat holidays.
The film starring Gal Gadot and Chris Pine debuted in Taiwan on $1.3m for a 61% share of the top five films in the market, more than doubling the number two film Pirates Of The Caribbean 5. It currently stands at $1.8m after two days.
The $1.3m opening is the third-highest Warner Bros opening day of all time, and surpassed opening day results for Doctor Strange, Batman V Superman, Suicide Squad, Thor, Man Of Steel, Ant-Man, Captain America: The First Avenger, and Guardians Of The Galaxy 1 and 2.
Hong Kong delivered $601,000 on 83 screens, capturing more than 50% of the top five films in the market and outperforming number two film Pirates Of The Caribbean 5 by nearly 50%. The film stands at $829,000 after two days.
The debut surpasses the opening day numbers for Deadpool, Logan, Thor, Doctor Strange, Suicide Squad, Man Of Steel, Ant-Man, Captain America: The First Avenger, and Guardians Of The Galaxy 1 and 2.
Opening on a non-traditional Wednesday, which was a Cultural Day holiday, South Korea ranked a clear number one, grossing $1.2m on 800 screens for a 40% share of the top five, coming in ahead of local opener Warriors Of The Dawn and the second weekend of Pirates Of The Caribbean 5.
The opening surpassed results for Doctor Strange, Thor, Captain America: The First Avenger, and Guardians Of The Galaxy 1 and 2.
Indonesia produced $803,000 on 820 screens, ranking top over Pirates Of The Caribbean 5. This was the second highest opening day of all time for a Warner Bros film and surpassed opening day numbers for all comparable titles with the exception of Batman V Superman.
Wonder Woman will launch in 55 markets this week, including China, the UK, Russia, Italy, South Korea, Mexico, and Brazil. The superhero tentpole also debuts in North America this weekend.
King Arthur: Legend Of The Sword has reached $88.8m. Guy Ritchie's action-adventure has no new openings.
Romantic drama Everything, Everything starring Amandla Stenberg and Nick Robinson stands at $1.8m, while Going In Style has grossed $35.6m to date.
Walt Disney Studios Motion Pictures International's Pirates Of The Caribbean: Dead Men Tell No Tales has amassed $297.8m at the international box office after opening in 91% of the international market last week. There are no new openings.
China produced $18.5m to cross the $100m mark on Tuesday. The action adventure now stands at $116.4m in that market.
Joachim Rønning and Espen Sandberg's fifth instalment of the Pirates Of The Caribbean series stands at $387.4m worldwide. The franchise has earned over $3.7bn globally across four films.
Johnny Depp stars as Jack Sparrow alongside Javier Bardem, Brenton Thwaites, Kaya Scodelario, Kevin R. McNally, Golshifteh Farahani, David Wenham, Stephen Graham, Orlando Bloom, and Geoffrey Rush.
Marvel Studios' Guardians Of The Galaxy Vol. 2 has reached $455.7m through Walt Disney Studios Motion Pictures International. The James Gunn helmed sequel has opened everywhere.
Beauty And The Beast stands at $734.5m internationally and has completely opened.
Fox International's tentpole Alien: Covenant from director Ridley Scott has grossed $101m.
Fox's latest animated offering Captain Underpants: The First Epic heads into eight territories this week.
The film directed by David Soren features the voice talents of Kevin Hart, Thomas Middleditch and Ed Helms.
Meanwhile, Diary Of A Wimpy Kid: The Long Haul has reached $3.9m and opens in three this week, including Germany.
Amy Schumer and Goldie Hawn action-comedy Snatched has earned $9.8m, while Dreamworks Animation's The Boss Baby has amassed $306.8m.
Logan opens in Japan this weekend and currently stands at $381.5m, while Gifted stands at $2.4m as it heads into Russia this weekend.
Universal Pictures International's The Fate Of The Furious is Universal's fifth title to cross $1bn globally on $1.225bn.
F. Gary Gray's action thriller stands at $1.002bn internationally.
Jordan Peele's Get Out starring Daniel Kaluuya has reached $67.9m and has no new openings.
Lionsgate International's The Shack stands at $36.1m.