Dir: Fred Schepisi. US. 2013. 111mins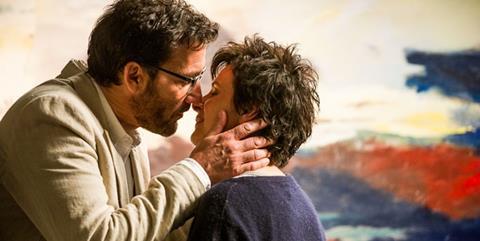 Aspiring to be a more intelligent, sophisticated date-night offering, the romantic comedy-drama Words And Pictures is torpedoed by artificial conflict and chronic cutesiness. Lukewarm rapport between leads Clive Owen and Juliette Binoche only further underlines this disappointing film's lack of spark.
Binoche can be a potent screen force, but in Words And Pictures she shows little nuance.
Shopping for buyers out of the Toronto Film Festival, Words And Pictures will need to bank on star power since reviews will probably be tepid. Still, if positioned correctly, the movie could be a comfortable fit for older audiences. Mediocre theatrical returns will lead to solid but unspectacular ancillary grosses.
In a small town in Maine, prep school teacher Jack Marcus (Owen) is in a rut, his early promise as a writer and poet giving way to creative stagnation and alcoholism. A new teacher, Dina Delsanto (Binoche), comes to the school, and she piques his curiosity because, as an art instructor, she believes that images are more powerful than the written word. A proud champion of the English language, Jack goads the students into putting on a competition to see which form of art has more value: words or pictures.
Directed by Fred Schepisi (Roxanne, Six Degrees Of Separation), Words And Pictures doesn't want to just dramatise the burgeoning love between Jack and Dina but also explore issues such as the mystery of creativity and the value that artistic expression has in a hectic modern world. Gerald DiPego's screenplay focuses mostly on the debate between images and language that's coyly waged by the two main characters, only later suggesting a growing romantic stirring within Jack for this prickly woman.
Both characters are wrestling with illness, albeit very different kinds. Jack is a drunk, while Dina struggles with rheumatoid arthritis, which forces her to use a cane and makes it physically painful for her to work on her own paintings. Jack and Dina are each also going through a fallow creative period, but in Jack's case the difficulties are more problematic: Because of his drinking, he may lose his job, unless he can produce some inspiring new work.
The back-and-forth between Jack and Dina is meant to be a flirty oil-and-water mixture, with Jack's cocky, gregarious manner causing friction with the worldly, cold Dina. But this notion of a school-wide battle between words and pictures, though occasionally intellectually stimulating, comes across as a rather weak excuse to bring together these eventual lovebirds. Beyond quoting a few good lines from great authors and showing off some impressive paintings, this hollow "debate" doesn't do much to stir the soul, in part because it's hard to imagine a scenario in which two high school teachers would be this passionately invested in proving that one art form is clearly superior to the other.
Binoche can be a potent screen force, but in Words And Pictures she shows little nuance, playing Dina as an aggressively brittle person who becomes far too faux-adorable when she and Jack get romantically involved. Owen is better as the floundering Jack, and he displays real verve in his recitations of famous passages from poetry and novels. But Binoche's meagre supporting performance undercuts Owen's attempt at amorous advances: Her character is simply too cold to justify his attraction to her.
In his best comedies, Schepisi has been able to concoct an aura of enchanted, grownup whimsy that can be awfully appealing. But in the case of Words And Pictures, the tone is often awry, whether it's an ill-advised subplot involving a male student (Adam DiMarco) cruelly harassing a female classmate (Valerie Tian) or the awkward, sometimes infantile courtship between Jack and Dina. These tonal problems are especially present at the finale, when the showdown between words and images concludes in a feebly staged, profoundly unsatisfying assembly presentation. Hoping to appeal to both the head and the heart, Words fail.
Production companies: Voltage Pictures, Latitude Productions, Lascaux Films
US sales: Creative Artists Agency, www.caa.com
International sales: Voltage Pictures, www.voltagepictures.com
Producers: Curtis Burch, Gerald DiPego, Fred Schepisi
Executive producers: Nancy Rae Stone, Bob Gass, Judy Burch Gass, Joseph Cohen, Richard Toussaint, Wade Barker, Derrick Evers
Screenplay: Gerald DiPego
Cinematography: Ian Baker
Production designer: Patrizia Von Brandenstein
Editor: Peter Honess
Music: Paul Grabowsky
Main cast: Clive Owen, Juliette Binoche, Bruce Davison, Navid Negahban, Amy Brenneman, Valerie Tian, Adam DiMarco, Josh Ssettuba, Janet Kidder, Christian Scheider