Dir: Marc Forster. US. 2013. 116mins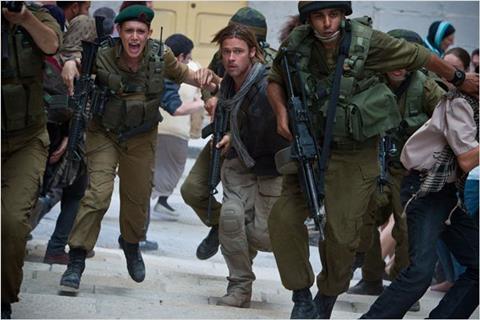 A choppy adaptation of Max Brooks' beloved novel of the same name, World War Z aims for a putative classy, ruminative sweet spot somewhere between pandemic thrillers like Contagion and Children of Men and pulse-quickening zombie survival tales like 28 Days Later and Dawn Of The Dead. But it ignores or fudges various geopolitical realities, and in fumbling away one of the chief strengths of its source material morphs into just another anonymous quasi-post-apocalyptic blockbuster.
Pitt amply displays his movie star bona fides, trading in both physical punishment and steely resolve.
A poorly reasoned first act gives way to a number of professionally mounted set pieces largely unburdened by any necessary unification, but the degree of satisfaction with World War Z for many viewers will be inversely proportional to their familiarity with the source material — or indeed, even just a desire for intelligent complexity.
Releasing June 21, World War Z will be buoyed by a teen-friendly PG-13 Stateside rating, but could see returns significantly eaten into by Man of Steel. Leaning heavily on the star power of Brad Pitt (also a producer on the movie), international box office should be quite strong, though various editorial concessions in adaptation have yet to win Paramount distribution approval in mainland China, where a theatrical release could bring in tens of millions of dollars more.
Pitt stars as Gerry Lane, a former United Nations investigator turned Philadelphia family man. A morning of ordinary urban gridlock dissolves into utter madness when a fast-acting virus starts to turn people into unrecognisable, feral killing machines. Lane escapes to Newark with his wife Karen (Mireille Enos) and two daughters (Abigail Hargrove, Sterling Jerins), and then leans on an old colleague to score a helicopter extraction to a quarantined battleship. Pressed back into duty in an effort to help track down the source of the zombie virus and figure out if it can be stopped, Lane and others strike out on a worldwide search that spans South Korea, Israel and Cardiff, Wales.
The film somewhat necessarily imprints a more investigative narrative upon Brooks' novel, which was told as a series of discrete first-person recollections. And there is an element of pleasure to Lane's mad-scrambling unraveling of a weakness in the disease's armor, even if it's at many times inelegantly communicated.
However, the international scale of the book as well as its parabolic self-reflection and post-millennial anxiety — its intersection of zombies, politics and institutions, and how democratic and authoritarian countries would respond differently in such a crisis — are all awkwardly compressed. This leaves World War Z with the shell of a richer genre exploration, but barely any meat on its bones.
The evidence of reshoots (a huge chunk of action from Russia was chucked, and the film's third act re-imagined) and other after-the-fact tonal tinkering would be obvious even were it not widely reported on during and after production. Generally expansive in scope, the movie's third act field-of-vision contracts noticeably, along with a jettisoning of any pretense of Lane's coordination with off-site authorities. This lack of cohesiveness can at times induce a vertiginous sense of confusion.
If it's burdened by story problems, director Marc Forster and cinematographer Ben Seresin (Unstoppable) at least deliver a nice-looking glimpse at end times. The zombies here, called "Zees" or "Zacks" by the military, fling their bodies around with impunity, and are more closely aligned with the sprinting undead of 28 Days Later than zombies of George Romero.
Especially amazing and memorable is a sequence in which zombies lay siege to a walled Jerusalem, like a swarm of angry ants. There's a visceral charge to scenes like these (and the notion that killing one zombie only agitates others) that contrasts interestingly with the idea of measured reflection and humanity's cooperation, if only the film had more discipline to explore.
If none of the other roles much allow for an impression, Pitt amply displays his movie star bona fides, trading in both physical punishment and steely resolve.
The metronomic drum rolls and anticipatory keyboard riffs of Muse's Matthew Bellamy, meanwhile, are richly evident alongside composer Marco Beltrami's solid work, which creates a forward-leaning sense of import and dread.
Production companies: Skydance Productions, Plan B Entertainment, Hemisphere Media Capital, GK Films, 2Dux² Productions
Domestic distribution: Paramount Pictures
Producers: Brad Pitt, Dede Gardner, Jeremy Kleiner, Ian Bryce,
Executive producers: Brad Simpson, David Ellison, Dana Goldberg, Paul Schwake, Graham King, Tim Headington
Screenplay: Matthew Michael Carnahan and Drew Goddard & Damon Lindelof, based on a screen story by Matthew Michael Carnahan and J. Michael Straczynski, and the novel by Max Brooks
Cinematography: Ben Seresin
Editors: Roger Barton, Matt Chessé
Production designer: Nigel Phelps
Visual Effects supervisor: Scott Farrar
Music: Marco Beltrami, with additional compositions by Matthew Bellamy
Website: www.WorldWarZMovie.com
Main cast: Brad Pitt, Mireille Enos, James Badge Dale, Daniella Kertesz, Fana Mokoena, David Morse, Abigail Hargrove, Sterling Jerins, Ludi Boeken, Peter Capaldi, Pierfrancesco Favino, Moritz Bleibtreu, Ruth Nagga, Elyes Gabel, Matthew Fox