Dir: Nick Cassavetes. US. 2012. 110mins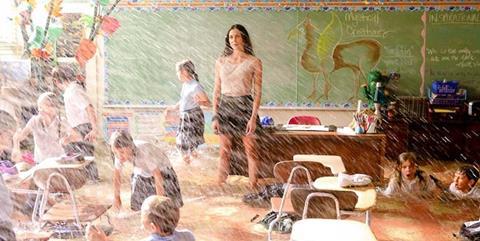 A portrait of madness — or maybe just severe family dysfunction — the experimental indie drama Yellow can be quite insufferable, but if you accept the movie on its own erratic terms, it can also be weirdly fascinating. Charting the progress of a pill-popping substitute teacher who habitually escapes her mundane life through fantasies before finally coming to terms with her traumatic past, this bizarre item from director Nick Cassavetes is certainly not for all tastes, but the adventurous may well find a film whose emotional rawness hits a nerve.
Gena Rowlands is imposing as a family matriarch, and Lucy Punch captivates as a woman who cuts herself open so often that her loved ones no longer seem overly concerned.
Premiering at the Toronto Film Festival, Yellow should appeal to midnight-movie aficionados and fans of surrealist filmmakers from David Lynch to Quentin Dupieux. Without much star power, the movie will have little commercial impact but nonetheless seems destined for cult status because of its unabashed love-it-or-hate-it approach.
As soon as we meet Mary (co-writer Heather Wahlquist), we can tell she's trouble, giving her second-grade students an assignment before excusing herself so she can down some pills with alcohol. This is typical of her dead-end life, which she elevates by turning episodes from her day into imaginary stage productions and musical numbers. But once she's fired, she leaves Los Angeles and heads to see her family in Oklahoma, where she is reunited with her mother (Melanie Griffith) and the rest of her redneck clan.
In his filmmaking career, Cassavetes has shifted back and forth between mainstream entertainments (The Notebook) and quirkier, edgier fare (Alpha Dog). Yellow is easily his most unconventional effort, and too often the risk-taking comes in the form of a showy, overly precocious style that embraces quirkiness. But Yellow's early stretches, in which we watch Mary make a mess of her life in L.A., set the stage for her return to Oklahoma, where we begin to see where her drug dependence and generally reckless behaviour stemmed.
But even then, the line between reality and fantasy remains nearly invisible, particularly during a family dinner in which the guests go through a horrifying physical metamorphosis. While we can't always say definitively that what we're watching is real, the intensity of the unvarnished family interactions is undeniable, bristling with a cleansing fury.
Wahlquist proves to be a stubbornly compelling presence at the centre of this film's emotional storm. As we learn more about the motivations behind some of her strange actions — why does she leave her four small children alone in L.A. when she visits her family? — the question becomes whether her problems are linked to actual mental illness.
Thankfully, Yellow provides no clear answer, and Wahlquist plays Mary with enough ambiguity that her sometimes impulsive or whimsical moods remain a mystery. In keeping with her temperamental spirit, Yellow is less a narrative than a force of nature — it rages and bewilders and frustrates and enraptures with such commitment that one can't help but be begrudgingly impressed with the sustained audacity of the endeavour.
Still, viewer patience is sorely tested, although a mostly strong cast helps sustain our interest. Gena Rowlands is imposing as a family matriarch, and Lucy Punch captivates as a woman who cuts herself open so often that her loved ones no longer seem overly concerned. If you're able to find such a character credible, you'll probably feel comfortable on the wavelength where Yellow operates.
SPECIAL PRESENTATIONS
Production companies: Medient, A Mark Entertainment, Indion Group, Muse Productions, Manu Kumaran Productions
International sales: Atlas International, www.atlasfilms.com
Domestic sales: International Creative Management, www.icmtalent.com
Producers: Manu Kumaran, Chris Hanley, Jordan Gertner, Chuck Pacheco
Executive producers: Pankaj Rajani, Chad Burris, Ky Chaffin, Pankaj Kapoor, Steve Markoff, Bruce McNall, John P. Flanagan, Jai Stephan, Tim Peternel, Izabella Miko, Horatio C. Kemeny, Derrek Lee, Jiri Hudler, Erick Geisler
Screenplay: Nick Cassavetes and Heather Wahlquist
Cinematography: Jeff Cutter
Production design: Patricia Farell
Editor: Jim Flynn
Music: Aaron Zigman
Website: www.yellowthefilm.com
Main cast: Heather Wahlquist, Sienna Miller, Melanie Griffith, Gena Rowlands, Lucy Punch, Riley Keough, Max Theriot, Daveigh Chase, David Morse, Ray Liotta, Brendan Sexton, Ethan Suplee