Dir: Alain Resnais. France-Germany. 2012. 115mins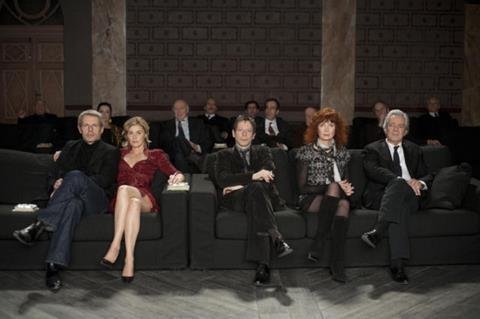 It's a mischievous title from a director approaching 90, for what has been announced as his last film - You Ain't Seen Nothin' Yet (Vous n'avez encore rien vu). But Alain Resnais's mischievous, consistently surprising swansong sets out to argue that that auteur often has the last word, in matters of art - if not in those of life and death. Based on two plays by Jean Anouilh (Eurydice and Cher Antoine), You Ain't is a self-reflexive hall-of-mirrors number that not only stages a dialogue between two separate art forms, film and theatre, but also, like Anouilh, plays modernity against antiquity. In addition, it takes in multiple echoes of Resnais' past work, as the director looks back over past achievements and questions still unanswered.
Unashamedly experimental, the film is sumptuously, even rapturously mounted, with glowingly atmospheric photography by Eric Gautier, and imposingly protean design by Jacques Saulnier.
Very much a valedictory, You Ain't shows the venerable innovator on vital form, and while it's nowhere near as barmy as his last feature, the more accessible Wild Grass, it's still a film of bristling intelligence that will delight lovers of cerebral upmarket cinema. That said, its audience will be limited, given the unapologetically rarefied - indeed, somewhat academic - tenor of the enterprise. Outside France, this will be a niche film, and indeed a festival film, par excellence.
The film begins with a series of close-ups showing various actors, playing themselves (Lambert Wilson, Sabine Azéma, Michel Piccoli et al), receiving phone calls telling them that their friend Antoine has died, and that they're invited to hear his will. Assembled at Antoine's cavernous mansion in a mountain village, the 13 actors are shown by his majordomo (Andrej Seweryn) to a screening theatre, where a filmed Antoine (Denis Podalydès) explains why he's summoned them.
A young theatre group, Compagnie de la Colombe, has asked to produce his play Eurydice, and it's up to the assembled thesps (former performers in the play) to decide whether the piece is still worth a spin. The filmed performance by the young company - staged in a warehouse and directed by Bruno Podalydès - plays out on film, with a mysterious pendulum swinging in the background.
The watching actors start talking back to the screen, and eventually taking over the performance, as Antoine's mansion turns into the various locales of the play - notably, a railway station buffet and a hotel bedroom.
Taken at face value, the film is an opportunity to give some eminent actors a spin with Anouilh's brittle, hyper-artificed modernisation of Greek tragedy, and as such, You Ain't offers rich pleasures for admirers of French stage acting - excelling in particular are Arditi, Anne Consigny and an impeccably sinister Mathieu Amalric as an emissary of death.
Sometimes, Resnais lets the scenes play out straight for a while, but generally he uses tricks (from the simplest stage illusionism to more elaborate CGI trompe-l'oeil), constantly ringing the changes between film and drama, and between the various levels of fiction (the two Anouilh plays, the ostensible reality of the framing narrative, the original Greek myth). In addition to having two sets of actors playing out Eurydice, he also has two sets of Orpheuses and Eurydices in the film (respectively, Arditi and Wilson, Consigny and a characteristically hyped-up Azéma). Deconstructing narrative, temporal and spatial coherence alike, Resnais leaves only the dramatic text intact.
Resnais watchers won't fail to see this as a knowing footnote to his career. Essentially a ghost story (shades of Last Year In Marienbad), and one that substantially echoes his multi-layered Life Is A Bed of Roses, the film is Resnais's latest (and most elaborate) variant on the theatrical explorations of his Alan Ayckbourn films (notably Smoking/No Smoking), as well as a reprise on the shape-shifting musings on life and death in Providence. And there's a poster for Hiroshima Mon Amour in there too.
Unashamedly experimental, the film is sumptuously, even rapturously mounted, with glowingly atmospheric photography by Eric Gautier, and imposingly protean design by Jacques Saulnier. It's also a triumph for editor Hervé de Luze, orchestrating a dizzying system of tightly synchronised cuts, as well as a playful array of iris shots, split screens, intertitles et al. The film is slippery right up to the minor-key coda, and the final touch, a Frank Sinatra song over the end credits, is a lovely melancholy sign-off from a venerable auteur whose intellectual and philosophical energy are undimmed.
Production companies: F Comme Film, Studio Canal, France 2 Cinema, Alamode Filmdistribution, Christmas In July
International sales: Studio Canal, www.studiocanal.com
Producer: Jean-Louis Livi
Screenplay: Laurent Herbiet, Alex Reval, based on two plays by Jean Anouilh
Cinematography: Eric Gautier
Production designer: Jacques Saulnier
Editor: Hervé de Luze
Music: Mark Snow
Main cast: Mathieu Amalric, Pierre Arditi, Sabine Azéma, Anne Consigny, Michel Piccoli