Dir: David Mackenzie. UK. 2011. 90mins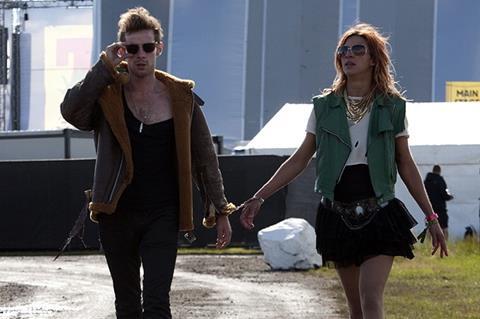 Rock'n'roll rom-com You Instead delivers a delightful blend of star-crossed lovers and authentic music, all set against the backdrop of one engagingly long night at Scotland's T in the Park music festival. Shot in just four days, David Mackenzie's vibrant feel-good film is frothy and fun, and handled right could be a hit with music and rom-com fans.
David Mackenzie directs with a freewheeling sureness, allowing the vibrant backdrop of the festival to be a major character in the film.
The film had its world premiere at the Glasgow Film Festival prior to an outing at SXSW. It screened in the EFM at Berlin and should be of interest to indie distributors who know how to work the music connections. Working from a script by Thomas Leveritt, the sheer nature of this low-budget on-the-hoof project meant that there was also a good deal of improvisation, with Mackenzie and his cast and crew flitting in and out of the real-life festival goers and musicians at last year's event.
It very smartly gets its cliché moments out of the way in the first few minutes. Indie US star Adam (Luke Treadaway) and his band partner Tyko (Matthew Baynton) are 'wackily' performing a song in the back of a tiny Smart Car for a local radio show, when they are good naturedly set-upon by a grungy Brit all-girl band led by Morello (Natalia Tena).
Their mild spat is interrupted by a roaming religious man (Al Green), who promptly handcuffs Adam and Morello together and vanishes into the crowd. Naturally enough, the pair bicker and feud as they try and find ways of getting out of the handcuffs – especially as both are due to perform before the day (and night) is out.
Both have partners in tow – she has a wealthy banker boyfriend, while he is with a supermodel named Lake (Ruta Gedmintas) – while at the same time Tyko and her fellow band members are also doing their best to help. Completely useless – and increasingly amusing – are the antics of his manager (Scottish comedian Gavin Mitchell), who simply gets drunk and tries to pick up any woman around.
Naturally enough – this is a rom-com remember – they start to appreciate each other, especially when Adam joins-in when Morello and her band have to perform their set. While she singing, the still handcuffed Adam starts to play the Soft Cell number Tainted Love on the on-stage keyboard, working the lyrics into her song. It is a triumphant centrepiece of the film and completely seals the deal in terms of charm.
Even when he is furtively handed the key to the handcuffs, Adam, who is rather more quickly enamoured of Morello than she is off him, opts to stay handcuffed to her. There is plenty of frolicking in the mud (a music festival must), drinking, playful behaviour and a charming sense of the two coming to slowly appreciate each other. And despite a moment of modest drama, the feel-good romantic ending is richly appropriate for a film that wears its sense of romance very much as a badge of pride.
Luke Treadaway – gangly, cool and with a rock-star's quiff – is engagingly low-key as Adam and is very believable both on-stage and in moments when he slowly starts to fall for Morello. He and his twin brother Harry have played musicians before, in Brothers Of The Head, and he handles the rock'n'roll aspect perfectly.
The real find, though, is Natalia Tena as the feisty and dynamic Morello. In real-life she has her own band, named Molotov Jukebox (two of the songs in the film were written by them), and is perhaps best known for playing Nymphadora Tonks in the Harry Potter films, but here she confirms she has the dynamism and personality to handle a lead role.
David Mackenzie directs with a freewheeling sureness, allowing the vibrant backdrop of the festival to be a major character in the film. In truth You Instead is a youthful blend of The 39 Steps (for the handcuffs) with Before Sunrise (for the romance) made with the energy of the Richard Lester Beatles films, and while at heart it never takes great dramatic risks with its characters or plotline, it is actually all the better for that.
It is a playful and thoroughly enjoyable romantic romp through the T in the Park (we also get to see cameos from the likes of real-life musicians Paolo Nutini, Biffy Clyro, Jo Mango and The Proclaimers) that really does deliver the feel-good quota in spades.
Production company: Sigma Films, Creative Scotland, BBC Films, Bankside Films
International sales: Bankside Films, www.bankside-films.com
Producer: Gillian Berrie
Executive producer: Malte Grunert
Screenplay: Thomas Leveritt
Cinematography: Giles Nuttgens
Editor: Jake Roberts
Website: www.facebook.com/YouInstead
Main cast: Luke Treadaway, Natalia Tena, Kari Corbett, Matthew Baynton, Ruta Gedmintas, Gavin Mitchell, Clare Kelly, Sophie Wu