Dir/scr: Lynn Shelton. US. 2010. 90mins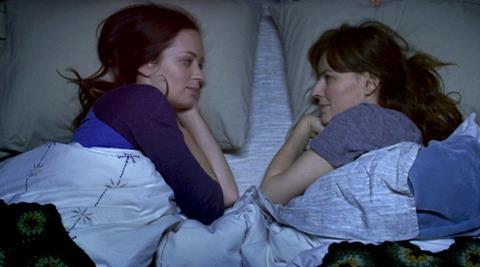 Shelton's Humpday was a cut above other mumblecore films. Sure, there was the generic talking and sparring over the dining table, but it also addressed some serious topics, like what might be lurking under veneer of masculinity. With Your Sister's Sister, an appealing feast of expressive dialogue, excellent performances (much of it improvised), and striking cinematography, she elevates the brand several notches. Its maturity and confidence allow it to cross over into Wally Shawn and Woody Allen talkfest territory.
Mark Duplass has impeccable comic timing and a fleshy, rubbery face to enhance it.
The film should appeal not only to the young demographic that got behind Humpday (ultimately, a box-office failure) but also to an older audience keen on adult discussions. Emily Blunt of course adds star wattage, and the splendid landscapes on an island in Washington State's Puget Sound alleviate the claustrophobia inherent in mumblecore and other verbally oriented films.
Despite the abundance of dialogue, foreign-language niche markets open to American indie fare should respond to this unusual story of family crises. Another selling point is the film's nicely integrated humour (without jokes), present in its use of language as well as its silences. (Mark Duplass has impeccable comic timing and a fleshy, rubbery face to enhance it.)
The thematic thread is the complex relationships between siblings. Affection and rivalry compete for attention. An emerging love story between Jack (Duplass), who lost his brother Tom a year before, and Iris (Blunt), Jack's best friend and Tom's ex, plays second fiddle. The emphasis is more on the unresolved conflicts between Jack and his brother, whom he barely saw in the period prior to his death, and Iris and her half-sister Hannah (Rosemarie Dewitt), a lesbian and hardcore vegan just out of a seven-year relationship.
A drunken Jack and Hannah sleep together one night in her family's island summer cottage (each has gone there to grieve in solitary over their losses). Complicating matters the following day is the unexpected arrival of Iris. Still in the closet on this one, Iris and Jack are in love with each other. Not only did Iris's sister sleep with her beloved, Hannah had a motive: She punched holes in the condom in the hope of becoming pregnant. Once all of this is out in the open, the film's mood shifts from the warmth of communal chatter, even if it is often biting, to the coldness of a silence born of feelings of treachery, the melancholy of solitude and alienation.
Questions of forgiveness and healing run throughout the film. Can Jack forgive himself for not spending enough time with his brother? Can Iris forgive Hannah for making love to the man she desires? Can Hannah forgive Iris for not reciprocating her obsession when they were growing up?
The possibility of a newborn that would somehow belong to all of them offers hope for a resolution of battles old and new. As in Humpday, Shelton denies the audience an answer to such a major plot point. She's a tease, and, like Jack and (according to Jack) his late brother, a manipulator, but above all, a talent that keeps on growing.
Production company: ADA Films LLC
International sales: UTA/Submarine Entertainment, www.submarine.com
Producer: Steven Schardt
Executive producers: Jennifer Roth, Vallejo Gantner
Cinematography: Benjamin Kasulke
Editor: Nat Sanders
Music: Vinny Smith
Main cast: Emily Blunt, Rosemarie DeWitt, Mark Duplass, Mike Birbiglia