Dir: Justine Malle. France. 2012. 71mins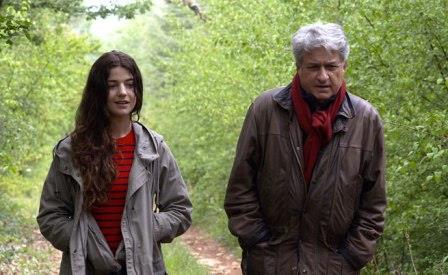 Essentially a personal memoir of the last summer in her father Louis Malle's life, Justine Malle's Youth (Jeunesse) is affectionate, sincere and occasionally endearing, though in the end perhaps not quite the tribute late lamented director deserves. This film must have had a long gestation, considering the fact that Malle died in 1995, when Justine was about 21, but it took her some time to come out with her debut film.
More than anything else, intentionally or not, this looks like an attempt to evoke with a straight face the mannerisms of the New Wave cinema.
For younger audiences who may not remember who Malle was or what was his contribution to cinema at the time, this will look more like the tale of a belated coming-of-age, a girl who enters the summer an innocent with romantic notions of love and ends it as an independent, free-thinking young woman, who learns not only how to handle her life but also how to deal with the grief incurred by losing her father.
Though there can be no doubt that nothing but the best of intentions went into the making of this film, the kindest way to treat it is as a first feature of an inexperienced director who may know quite a lot about cinema but still lacks the practice needed to make it all happen on the screen.
The basic plot follows indeed the events of that summer and the way they affected young Juliette (Esther Garrel). Her father (Didier Bezace), who contracts a debilitating disease which will put an end to his life in barely one month, is the centerpiece around which all the rest of the details are decorously arranged, whether it is Juliette's failed attempt at a romance with an immature colleague, Benjamin (Emile Bertherat); the relationship she has with her mother (Christele Tual, slightly resembling the director's real mother, film actress Alexandra Stewart), or her concern with a future which she still cannot see quite clearly.
More than anything else, intentionally or not, this looks like an attempt to evoke with a straight face the mannerisms of the New Wave cinema, with its quotations of philosophers (in this case, Leibniz, Merlot-Ponty, Nietzsche); fashionable American ballads (Bob Dylan is on the soundtrack); arguments about films and filmmakers (like Iranian cinema and Eric Rohmer); fashionable cinemas on the Left Bank (the Champollion and the St. Andre des Arts) and growing up into politics. This may be a faithful replica of the way things actually took place at the time, but their presence in the script looks like an attempt to catalogue them rather than integrate them into the fabric of the plot.
Even less comfortable is the casting and the direction of the actors. Just like the filmmaker, Garrel is also the daughter of a well-known French director, Philippe Garrel, and just like her she has no previous experience in feature films. Which may explain why she never looks comfortable in front of the camera and her changes of expression are minimal.
Apart from to his faint physical resemblance with Louis Malle, Bezace looks physically too soft for the part and never manages to fully convey the despair, the anger and the frustration that a man of Malle's calibre must have experienced as he was gradually deprived not only of his capacity to move around on his own, but loses the ability to speak, express himself or invest any kind of effort into the process of thinking.
Shot mostly in Malle's own country house near Cahors, all the ingredients are in place to make this a great picture about reaching maturity in Paris during the 1990s. But maybe someone less involved personally, might have done a more effective job of putting them all together.
Production company/sales: Tupelo Films, r.pradinas@gmail.com
Producers: Remi Pradinas
Cinematography: Nicolas Pernot
Editor: Olivier Ferrari
Production designer: Aurore Casalis
Main cast: Esther Garrel, Didier Bezace, Emile Bertherat, Lucia Sanchez, Christele Tual, Augustin Bonhomme, Elizabeth Baranes, Aurelie Alcais