Dir/scr: Belma Bas. Turkey. 2010. 93mins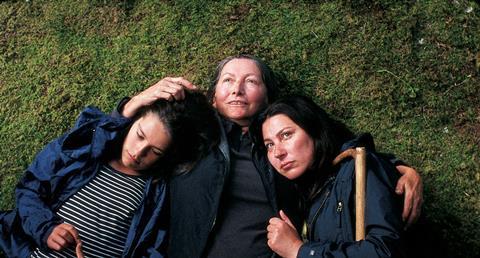 Intensely personal and insistently metaphoric, Belma Bas' debut feature, screening at the Thessaloniki Film Festival, offers an innocently poetical coming-of-age tale which takes its audience by surprise with a last minute unexpectedly grim ending that might shock quite a few of them.
Short on plot but replete with visual annotations and planting allegorical hints every step of the way.
Using for its backdrop the majestic, mist-shrouded mountainous landscapes of northern Turkey, which served so well earlier Turkish films such as Autumn and Pandora's Box, and moving at the same slow, deliberate pace, with spare dialogue and non-professional actors (with one exception, the role of the mother), this modest, mostly family initiated project (have a look at the credits to confirm it) will be welcome in most festivals, though whether it targets adolescent audiences who would identify with the 12 year-old heroine, or parents who would find it easier to cope with the final sequence, is rather difficult to decide.
Zephyr (Seymar Uzunlar), the headstrong single daughter of an Istanbul mother who is evidently having her own personal problems (though the film never specifies them) is spending her summer holiday with her grandparents (Sevinc Bas, O. Rustu Bas), up in mountain village. Inquisitively roaming around the countryside, often alone, sometimes with her grandfather or with the next door kid her own age, she observes nature at work, the cycle of life and death is often hinted at, be it by the decomposing carcass of a dead animal or a calf bereft of his mother and every once in a while she retreats into her room with a portable record player to listen to the echoes of the city where she emotionally belongs.
Pushed out of the way by a parent too busy elsewhere, she tends to be surly, introverted and often irreverent, impatiently waiting for her mother come and take her back home again. But when the mother (Vahide Gordum) finally arrives, it is to announce that she has to go abroad for an indefinite period of time, possibly forever, for reasons she does not care to explain, and Zephyr will have to remain with her grandparents. No arguments can convince her to give up the trip and when she sets out on her way, it is Zephyr who takes the final step to prevent it.
Short on plot but replete with visual annotations and planting allegorical hints every step of the way, Bas takes her audience through a world she obviously has intimate knowledge of, having already confirmed backgrounds details are inspired by her own childhood memories, though quite naturally, she insists the story itself is pure fiction all through.
This may explain why the background works better than the fictional narrative. With the little that she actually has to do, Zephyr's every step provides yet another metaphoric step towards her final act, providing better intellectual than emotional foundation for the violent act featured at the film's very end. Still, this is a promising debut, with distinctly high level visual achievements thanks to the Mehmet Zengin's sensitive camera and judicious choice of the secondary parts blending in perfectly with their natural surroundings.
Production companies: FILMIK Istanbul, FC Istanbul
Producers: Seyhan Kaya, Birol Akbaba
International Sales: Medit Gmbh, www.medit-media.de
Cinematography: Mehmet J. Zengin
Production design: Canan Cayir
Editing: Berke Bas
Sound: Ismail Karadas, Cagri Ayyildiz
Main cast: Seyma Uzunlar, Vahide Gordum, Sevinc Bas, O. Rustu Bas, Fatma Uzunlar, Harun Uzunlar