Dir: Frank Coraci. US. 2011. 102mins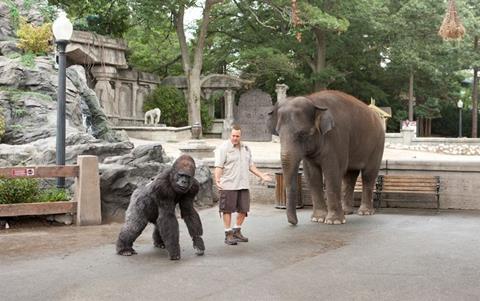 Zookeeper takes a saleable premise – loyal zookeeper discovers his park's animals can talk – and does depressingly little with it in this dreary kids' comedy. Kevin James' average-Joe appeal doesn't go very far in a film that's noticeably low on charm or playfulness, instead putting most of its faith in big-name stars like Cher, Sylvester Stallone and Adam Sandler providing largely unfunny voices for the zoo's critters.
Of the human cast, Rosario Dawson is the liveliest, playing a sexy but down-to-earth zoo veterinarian.
Opening domestically July 8 before rolling out across the globe over the next few months, this Sony product will – like James' other star vehicle, Paul Blart: Mall Cop – rely on family audiences immune to negative reviews. Except for his recent commercial misfire, The Dilemma, James has proved to be a sturdy box office performer of late, but the question remains whether there'll be enough breathing room for Zookeeper amidst Transformers: Dark Of The Moon, Cars 2 and the forthcoming Harry Potter finale. A movie with talking animals should never be underestimated, but the betting is that Zookeeper may underperform slightly theatrically but rebound nicely in ancillaries.
As with Paul Blart, James plays a lovable loser in Zookeeper, Griffin, an animal-loving zoo employee who still hasn't recovered from his girlfriend Stephanie (Leslie Bibb) dumping him five years ago. But when Stephanie comes back into his life unexpectedly, his animal pals decide to break their silence and communicate with him, instructing him on how he can win her back.
Directed by Frank Coraci, who has helmed three Sandler films, including Click and The Waterboy, Zookeeper very much feels like the sort of summer comedy Sandler would normally topline. But with Sandler handling producing duties, James plays the film's regular-guy hero, supplying the right amount of sweetness to the role.
Unfortunately, the screenplay (credited to five people, including James) never advances beyond its high-concept hook, mostly turning its animal characters into one-note jokesters. (The zoo's lonely gorilla, nicely voiced by Nick Nolte, is the sole exception, providing Griffin with his one close friend.) Equally disappointing, Zookeeper quickly becomes a by-the-book romantic comedy in which Griffin learns in the most obvious ways possible that he shouldn't have to change himself to make Stephanie love him.
It's something of a relief that Zookeeper is actually low on bathroom humour, which was far from assured considering the animals that are featured prominently in the film, including bears and elephants. But the filmmakers fail to give the animals much good advice (or, conversely, comically bad advice) to offer to Griffin, essentially reducing them to periphery characters. A combination of trained animals and solidly done animatronics, the zoo's inhabitants don't exude much personality, leaving the viewer with the impression that Zookeeper didn't invest a lot of thought into the animals beyond who was going to voice them.
Of the human cast, Rosario Dawson is the liveliest, playing a sexy but down-to-earth zoo veterinarian who most assuredly will become a rival love interest for Griffin. Bibb overdoes Stephanie's shallowness, but she's furthered hampered by a screenplay that pushes her toward becoming more and more shrill as the story rolls along. And as he displayed with Paul Blart, James can be a likeable presence, but when the material isn't sharp he flounders badly, unable to bring enough comic gusto to threadbare ideas.
Production companies: Metro-Goldwyn-Mayer Pictures, Broken Road Productions, Hey Eddie, Happy Madison Productions
Domestic distribution: Columbia Pictures, www.sonypictures.com
Producers: Todd Garner, Kevin James, Adam Sandler, Jack Giarraputo, Walt Becker
Executive producers: Barry Bernardi, Jeff Sussman, Charles Newirth, Jennifer Eatz
Screenplay: Nick Bakay & Rock Reuben & Kevin James and Jay Scherick & David Ronn, story by Jay Scherick & David Ronn
Cinematography: Michael Barrett
Production designer: Kirk M. Petruccelli
Editor: Scott Hill
Music: Rupert Gregson-Williams
Website: www.zookeeper-movie.com
Main cast: Kevin James, Rosario Dawson, Leslie Bibb, Ken Jeong, Donnie Wahlberg, Joe Rogan, Nat Faxon, Tom Woodruff, Jr.