Karlovy Vary, beyond the films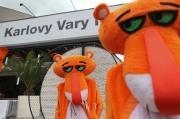 A recap of the special fashions, culinary delights and canine guests of KVIFF.
A few of my favourite non-film sights from Karlovy Vary 2011:
Unexpected guests in screenings: there was a woman breastfeeding her infant during a press and industry screening of a rather intense psychosexual thriller, and also a large dog in attendance for the Works In Progress presentations.
The poor-woman's-Cheryl-Cole-esque fashions on display at the Grandhotel Pupp (always priceless). Mike Goodridge and I spotted a young woman at the Thermal wearing some sort of over-clothes bra made out of acid-washed denim. I wish I had taken a photo. For 2012 KV, I plan a Glamour magazine style do's and don't's column.
Denis Villeneuve taking a sniff of my Becherovka and deciding on a vodka instead (smart man). Yes, that is a shameless namedrop as a way of thanking Telefilm Canada inviting Team Screen to a fabulous Canadian dinner.
The abstract tattoo covering the arm of international press officer Viktor Palak.
The eyeball toys being handed out by the team behind mockumentary Sunflower Hour (silly but fun, and a great way to drum up business for their sold-out screenings).
Jude Law mocking his own posh image in the latest festival short film/trailer.
Meat products wrapped in other meat products (I pity the vegetarians visiting KVIFF).
Weird Woody Allen-meets-the-Pink Panther mascot for festival sponsor energy company Skupina CEZ [pictured].