Les Arcs opens with a "snowflake" that snowballed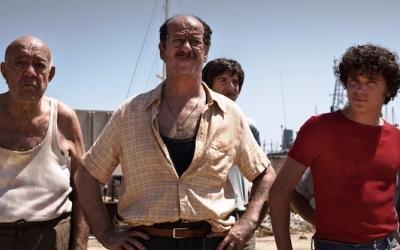 The Les Arcs European Film Festival opened on Saturday night with a screening of It Was the Son – an Italian melodrama that "started as a snowflake" at last year's event.
In the snow-covered ski resort of Les Arcs, 2,000 metres up in the French Alps, the week-long festival kicked off with an opening ceremony for the audience of 550, made up of producers, distributors, sales agents and local residents.
In his opening speech, festival CEO and co-founder Pierre-Emmanuel Fleurantin said: "European culture is going through a very difficult period, especially cinema, and cinema needs to be supported.
"We are happy and thrilled to host the fourth edition of this festival with another selection of films that reveal the broad diversity of European cinema."
Around 60 films will be screened, representing some of the best European film-making of the past year, many of which are French premieres.
Some 12 features will compete for the festival's top prize, the Crystal Arrow, which was unveiled on stage by Romanian director Cristian Mungiu, who leads the competition jury.
Joining him on stage were fellow jury members Marie Gillain, Helena Noguerra, Gilles Porte and Jean Philippe Verdin. Verdin has replaced composer Klaus Badelt, who was unable to attend due to scheduling conflicts.
Fleurantin highlighted the Co-Production Village, which give European producers the opportunity to find partners and financing for their projects. 26 projects will be presented and Fleurantin said the event will welcome 500 people.
Son rises to open Les Arcs
The festival's artistic director, Frederic Boyer, then took to the stage to introduce opening film It Was the Son (È Stato Il Figlio) alongside director Daniele Cipri and actress Giselda Volodi.
"It Was the Son started as a snowflake in Les Arcs last year, featuring in the Work in Progress section," said Boyer, who is also artistic director of the Tribeca Film Festival.
"We are proud that two of the films in competition this year were in the Work in Progress section last year [the second is Baltasar Kormakur's The Deep]".
It Was the Son is co-produced by Palomar, Passioni Produzioni and Rai Cinema, financed by MiBAC (Italian Culture Ministry).
The film, a dark comic drama about a family who deal with debt and personal tragedy, has previously screened at Venice, Toronto and London film festivals.