Sheri Jennings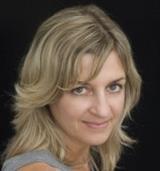 Sheri Jennings covers Italy for Screen.
Contact Info
Sheri Jennings
Correspondent (Italy)
Screen speaks to the British filmmaker about his documentary following a group of brave individuals risk their lives to save the last of the world's mountain gorillas.

TRIBECA: North Carolina-born filmmaker Onur Tukel's Manhattan and Brooklyn-set black comedy Summer of Blood is a novel twist on relationship angst, where the selfish needs of a vampire align with those of New York City bachelor.

Lou Howe, who studied film at Harvard and AFI, had his directorial debut Gabriel starring Rory Caulkin selected to open Tribeca's World Narrative Feature competition.