Theodore Schwinke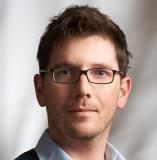 Theodore Schwinke covers the Czech Republic, Hungary, Romania and Bulgaria for Screen.
Contact Info
Theodore Schwinke
Correspondent (Czech Rep/Hungary/Romania/Bulgaria)
Berlin-based content licensing company A Company on July 2 launched EEAP Film Distribution CZ-SK to cover distribution in the Czech Republic and Slovakia.

Some of the world's leading film-makers are scouting locations in a territory that is keeping busy despite having no financial incentives.

As the territory's popularity has soared, so have costs.