Dirs: Benicio del Toro, Pablo Trapero, Julio Medem, Elia Suleiman, Gaspar Noe, Juan Carlos Tabio, Laurent Cantet. Spain-France. 2012. 128mins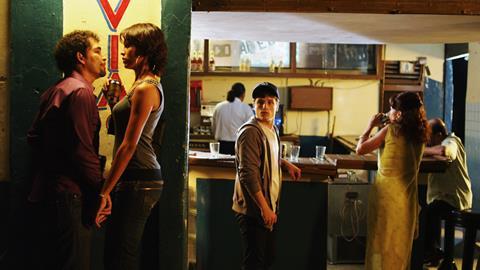 From Soy Cuba to Soy Turista: the 7 Days In Havana portmanteau project features seven directors who have more in common with the Cannes Film Festival, where the film premiered, than the Caribbean political hotspot where it is set. The result is a bouncy and uneven bop through this most seductive of cities, which should attract the curious but won't rehabilitate the somewhat bruised reputation of the film anthology. It's also arguable how well Havana itself is serviced by the hookers, music and nightclubs that predictably populate these pieces.
Viewers looking for a hard political view on Cuba will go unsatisfied, with Havana taking a genial, accommodating perspective with the occasional raised eyebrow.
But Havana, capital of the self-described Socialist Republic of Cuba and now run by Fidel Castro's brother Raul, is a survivor; a city with an enduring global cachet, a magnetic fascination which should exert a pull on audiences which have already responded to the Paris and New York anthologies. Running at 128 minutes, 7 Days In Havana's collective pedigree could outweigh some tonal troughs with an upscale demographic, and there's always the salsa fanbase, not to mention the Hunger Games fans of Josh Hutcherson, who stars in Benicio del Toro's opening short El Yuma.
With each piece set on a consecutive day of the week, some, in particular Cuban native Juan Carlos Tabio's Bittersweet and The Fountain by Laurent Cantet, successfully dig under the surface to convey a little of what it means to be Cuban today. Gaspar Noe's contribution is the most contemporary and cinematic. Elia Suleiman's schtick may be as deceptively simple as ever, but his warmly familiar routine helps underscore some of the film's more perceptive points. The longest, Julio Medem's Celia's Temptation, adopts a bafflingly cheesy tone, however, which sets it at jarring odds with its colleagues.
El Yuma, which is slang for yankee, casts Hutcherson as a visiting actor caught up in a drunken night in the city with taxi driver Angelito (Vladimir Cruz). Del Toro's opener sets the look of the film, all brashly jeweled tones and smoky orange interiors, and cinematographer Daniel Aranyo takes credit here and on the shorts made by Medem, Suleiman and Tabio. Diego Bussel took over on Cantet's and Trapero's films while Noe memorably works his own camera.
Trapero's Tuesday film, Jam Session, stars Emir Kusturica as himself, a drunken Serbian film director arriving in Havana for the festival but instead spending a night at a jam session with the fabulous trumpeter Alexander Abreu. Kusturica is a sympathetic actor, and even though this short continues the theme of a tourist wandering around the corridors of the Hotel Nacional, it's a sweet mix of sights and sounds for Argentina's Trapero.
Medem's Cecilia's Temptation, meanwhile, with its lounge-lizard soundtrack and overdone soft-focus colours, tells the story of a chanteuse torn between the Madrid nightclub owner (Daniel Bruhl) who offers her a job and her baseball-playing boyfriend. Elia Suleiman, waiting for an appointment at the Palestinian Embassy, has to work his hardest to pull the audiences out of Medem's baffling piece, and he sets the viewer up nicely for Noe's sexually charged Ritual, about a lesbian schoolgirl and a santoria exorcism.
Tabio and Cantet finish the piece with their closely-linked domestic dramas, pulling 7 Days In Havana into the strange everyday world of a Havana tenement slum with all its humour, poignancy and - yes - Cuba's ever-present musical rhythms.
Cuban writer Leonardo Padura and his wife Lucia Lopez Coll are credited with co-coordinating the screenplay for the entire piece, and he collaborated on most of the shorts (except for Suleiman, Noe, and Cantet, who wrote their own). Viewers looking for a hard political view on Cuba will go unsatisfied, with Havana taking a genial, accommodating perspective with the occasional raised eyebrow. Suleiman's piece is the only one to make direct reference to Fidel, with the one of the dictator's extra-long speeches amusingly punctuating his piece.
Production companies: Full House, Morena Films
International sales: Wild Bunch, www.wildbunch.biz
Producers: Alvaro Longoria, Gael Nouaille, Laurent Baudens, Didar Domehri, Fabien Pisani
Screenplay: Leonardo Padura, Lucia Lopez Coll
Cinematography: Daniel Aranyo, Diego Dussuel
Music: Xavi Turull with Descemer Bueno and Kelvis Ochoa
Main cast: Josh Hutcherson, Vladmir Cruz, Emir Kusturica, Alexander Abreu, Daniel Bruhl, Melvis Estevez, Elia Suleiman, Cristela de la Caridad Herrera, Mirtha Ibarra, Jorge Perugorria, Nathalia Amore