Dirs: Crispian Mills, Chris Hopewell. UK. 2012. 100mins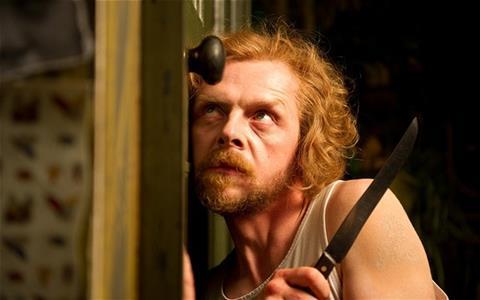 The elements would appear to be all in place in this snappily titled Simon Pegg vehicle, but oddly, despite the best efforts of all involved, A Fantastic Fear Of Everything fails to either amuse or scare as it veers about looking for a structure and genre that would make it all hang together. Sadly, it never finds it.
Simon Pegg is perfectly cast as the smart but off-kilter Jack.
There will be a lot of good-will towards Simon Pegg in the UK – his fan-base from Shaun Of The Dead, Hot Fuzz and TV series Spaced is still strong - and on paper a 'horror-comedy' such as A Fantastic Fear Of Everything would appear to be aimed fair and square at his target audience. And to be fair, Pegg gives the film all he has got, but is eventually let down by a lack of pace, structure and a niggling sense of general confusion within the film.
It is admirable that Universal – who released Shaun.. and Hot Fuzz – should back such a quirky and oddball film, but it is unlikely it will have much play internationally, with home entertainment the most likely place for recoupment.
The film is co-directed by Crispian Mills (former lead singer of band Kula Shaker and son of actress Hayley Mills), who also scripted, and Chris Hopewell (who also handles the impressive production design), and while there are some elegantly staged moments which show a real sense of film knowledge as they riff off other classic films the film's script seems unsure of the tone it is taking and the essential structure never fits together.
Pegg plays Jack, a children's author turned crime novelist whose research into Victorian serial killers has turned him into a paranoid wreck convinced that he is about to be murdered. Rarely leaving his ramshackle home – which is littered with images of killers of the past – he is thrown a lifeline when a Hollywood agents shows interest in his latest work, Decades Of Death…but it will involve leaving his home for a meeting.
But since he has no clean clothes, this means heading to a launderette…and he also has a crippling fear of launderettes, having been left there as a child by his mother. Plucking up courage – but hampered by the fact her superglues a carving knife into one hand – he heads into the night in an oversized duffle coat ready to face his fears.
But while the launderette offers the possibility of washed clothes as possible love interest – in the form of Sangeet (the excellent Amara Karan) – there is also the spectre of a real-life killer.
For pretty much the first two-thirds of the films it is all about Jack, his dingy flat and his phobias, to the degree that while Simon Pegg carries the film, its switch to the launderette and a whole bunch of new characters is a tough transition.
If the film's early section was nicely staged and oddly intriguing, it is in the final third that the wheels come off. Even a nicely oddball animated sequence featuring a hedgehog character Jack bases his children's story on can save the day.
Simon Pegg is perfectly cast as the smart but off-kilter Jack, but despite his enthusiasm he can do little when the lines aren't good enough and the balance of the film all wrong. Paul Freeman and Clare Higgins offer-up nice enough cameos, though Amara Karan isn't given enough to do with her character, seemingly casually added to give spice to the climactic scenes.
During shooting actress Sheridan Smith was involved in the film as Jack's former partner, but her role has seemingly been completely left on the cutting room floor.
Production companies: Keel Films, Pinewood Studios, Insomnia Releasing
International distribution: Universal Studios
Producer: Geraldine Patten
Executive producers: Johnny Fewings, Jasbinder Singh Mann, Steve Norris, Simon Pegg, Katie Reynolds, Mick Southworth
Director/screenplay: Crispian Mills
Co-director/production designer: Chris Hopewell
Cinematography: Simon Chaudoir
Editor: Dan Roberts
Music: Michael Price
Main cast: Simon Pegg, Amara Karan, Alan Drake, Paul Freeman, Clare Higgins