Dir: Julian Gilbey. UK. 2011. 99mins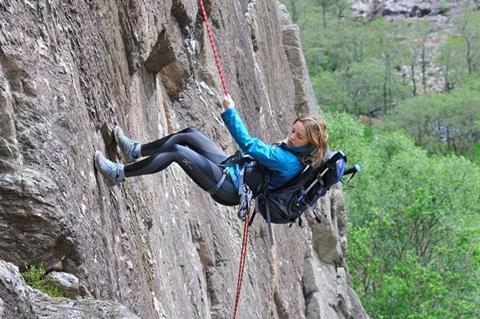 Scottish set chiller A Lonely Place To Die is an efficiently staged horror-thriller that makes great use of its striking locations as it blends a child-abduction plot with gritty chase elements and with a dash of Wicker Man style pagan rituals on the side. It falls short of a full-blown horror film - which makes it less attractive to the gore brigade – though casting of scream queen Melissa George helps its genre credentials.
Melissa George looks the part in the rugged looking mountaineering scenes.
Director Julian Gilbey (who made football hooligan film Rise Of The Footsoldier) makes impressive use of the remote mountainous Scottish Highlands locations – widescreen aerial shots go a long way to reinforcing the tough, bleak but beautiful backdrop – as he sets the scene for a group of experienced climbers out on the rockface.
There is an early scene of peril on the climb involving hardy climbers Alison (George) and Rob (Alec Newman) and more inexperienced Ed (Ed Speleers) – nicely staged but rather familiar – before they meet up with other climbing biddies Jenny (Kate Magowan) and Alex (Garry Sweeney).
They all set off on a hike through the wooded mountainside, but are surprised to hear calls for help, and shocked when they discover an Eastern European girl (Holly Boyd) buried in a container. The team decide to split up to try and find the speediest route to raise help, but before long they find themselves chased by two bloodthirsty snipers (Sean Harris and Stephen McCole) and their numbers whittled down, either by falls or gunshots.
There's an explosive climax in a local village – which for no apparent reason seems to be engaging in pagan celebrations, which looks nice but feels rather forced – as more bodies fall, but there is a resolution of sorts. The violence and action are nicely staged, but in truth a little more would have helped its horror credentials. In fact the closing sequence involving a Serbian mobster and his torture kit implies – rather than shows – real violence.
Melissa George looks the part in the rugged looking mountaineering scenes, though a little early humour might have helped the unrelenting grimness, and when A Lonely Place To Die impresses it is in those stunningly shot exteriors that emphasise the tough beauty of the Scottish Highlands.
Production companies: Carnaby Intl. Films, Eigerwand Media, Molinare London
International sales: Genesis Film Sales, http://genesisfilmsales.com
Producer: Michael Loveday
Executive producers: Terry Loveday, Mark Foligno, Toby Richards
Co-producers: Andy Loveday, Richards, Julian Gilbey.
Screenplay/editors: Julian Gilbey, William Gilbey.
Cinematography: Ali Asad
Production designer: Matthew Button
Music: Michael Richard Plowman
Main cast: Melissa George, Ed Speleers, Sean Harris, Kate Magowan, Alec Newman, Stephen McCole, Garry Sweeney, Karel Roden, Eamonn Walker, Holly Boyd