Dirs: Adam Deacon, Daniel Toland. UK. 2011. 89mins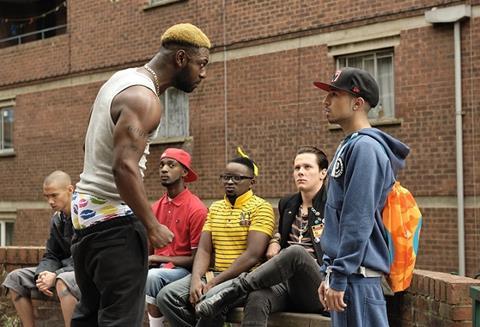 Rough, raucous and belligerently over-the-top, British urban comedy Anuvahood attempts to put a comic twist on successful local urban dramas Kidulthood and Adulthood, though plays for much of its modest running time like a limp series of TV sketches rather than a fully fledged movie. It'll be largely inaccessible to international audiences, while a shrill UK marketing campaign could point to a modest local success.
The film is so breezily paced and appropriately episodic.
Likely market will be urban teens more easily won over by the broad humour, savvy soundtrack and generally good-natured attitude of the film. The final 20 minutes sees the tone change and a dash of realism introduced, but at heart Anuvahood is resolutely unchallenging and breezy. In style it is closer to Don't Be A Menace To South Central (When You're Still Drinking Your Juice In The 'Hood and Friday than British comedy spoofs.
Actor turned co-writer and co-director Adam Deacon plays wannabe rapper/MC Kenneth (or 'K' as he wants to be known in his hood) who quits his job at 'Laimsburys' (a supposed spoof of real-life supermarket chain Sainsburys, which tends to exemplify the level of humour) in a bid to try and make the big time.
Despite his big intentions, Kenneth lives at home with mum and dad (Linda Robson and Perry Benson) and a young sister who seems tougher than him. In fact more subtle humour comes from the child-like items in his room (including his pet hamster) while he bemoans his lack of money or girlfriend.
He hangs around his local estate with his buddies – who include Michael Vu, who co-scripted) – and is regularly threatened by lisping local muscle thug Tyrone (Richie Campbell, going impressively over-the-top). New addition to the gang is a Spanish student Enrique (played by Ollie Barbieri, from UK youth TV series Skins), who is staying with a couple who have just bought a house near to the estate (an unlikely cameo by talented comedians Alex MacQueen and Doon Mackichian).
The script contrives for a way to Kenneth to come good and show some backbone – though this does involve some rather bloody violence which jars with the overall comedy tone of the film – as it heads towards its sort-of happy ending. There are some uncomfortable racial and sexual stereotyping, but luckily the film is so breezily paced and appropriately episodic that these moments barely impact on the overall Anuvahood experience.
Cameos from Femi Oyeniran and Jaime Winstone (who starred with Deacon in urban drama Kidulthood and Adulthood) as well as local star Ashley Walters may help profile, while a sexy turn by former UK Big Brother housemate and glamour model Aisleyne Horgan-Wallace may help get space in the gossip columns.
Production companies: Revolver Entertainment, Gunslinger Films, Gateway Films, Creativity Media
International sales: AV Pictures, www.avpictures.co.uk
Producers: Paul Van Carter, Nick Taussig, Daniel Toland, Terry Stone
Executive producers: Justin Marciano, Yogita Puri, Mike Diamond, Ajay Parkash, Tony Jimenez
Co-producers: Patrick Fischer, Peter F. Gardner, Neeraj Pathak, Laurence Brown
Screenplay: Adam Deacon, Michael Vu
Cinematography: Felix Weidermann
Editor: Seth Bergstrom
Production designer: Matthew Button
Music: Chad Hobson
Main cast: Adam Deacon, Jazzie Zonzolo, Femi Oyeniran, Jaime Winstone, Ollie Barbieri, Michael Vu, Richie Campbell, Linda Robson, Perry Benson, Terry Stone, Jason Maza, Ashley Walters, Richard Blackwood, Paul Kaye