Dir: Yulene Olaizola. Mexico. 2011. 83mins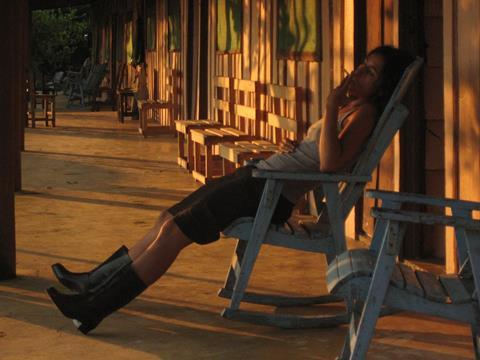 Artificial Paradises is a poetic contemplation that balances a landscape's serene beauty with the small futile dramas of characters whose lives are ruled by intoxication.
In a film with the slow rhythms of Artificial Paradises, Olaizola still grasps the power of brevity.
Yulene Olaizola's sober lyrical drama has toured festivals worldwide, and could see more exposure on this circuit. An art house release in the US and Europe may follow, but its commercial reach won't extend far. Best prospects for the Mexican film should be in Spanish-speaking countries.
Artificial Paradises was Charles Baudelaire's 1860 translation and adaptation of Thomas de Quincey's autobiographical Confessions of an Opium Eater. Baudelaire famously wrote that "common sense tells us that the things of the earth exist only a little, and that true reality is only in dreams."
The film's title reflects its setting, a rundown resort in the blustery off-season at the edge of a lush forest near Veracruz. It also refers to the heroin that Luisa (Luisa Pardo) would like to kick, and to the marijuana smoked constantly by Salomon (Salomon Hernandez), an ageing local of 65 who befriends the vulnerable young addict of 25.
The minimal script, by Olaizola and co-writer Fernando del Razo, seems driven as much by the weather onscreen as by any plot. Life goes by quietly and indifferently as Luisa shoots up and becomes known in the crumbling resort, where she encounters men of Salomon's generation who seem left behind by the drug tumult that threatens life elsewhere in Mexico. We never know why the place is empty, or why there are no women there. Has everyone decamped from this beautiful place to work in the United States, another artificial paradise?
The camera moves gracefully above the wooded hills and along the beach, thanks to elegant cinematography by Lisa Tillinger, stopping on Luisa's anxiety-ridden face and on children who play around her. There's no magic realism or surrealism here, no charming idiosyncrasies. Luisa suffers from a painful addiction that she can't escape. Marijuana, says Salomon, is the "single vice" that sustains him, like the wife whom he lost years ago.
Olaizola, a non-fiction filmmaker presenting her first dramatic feature, isn't imbuing her fiction debut with an obvious "documentary style." Influences seem to be the deliberate stillness of films by compatriot Carlos Reygadas and the gentle fixed gaze of another recent Latin American feature, Paraguayan Hammock, directed by Paz Encina (2006).
As Luisa, Pardo exudes a pain that makes Baudelaire's reveries seem empty. The film's understated crescendo, a failed attempt at cold turkey withdrawal for Luisa, cuts away to the life that is passing her by at a snail's pace.
In a film with the slow rhythms of Artificial Paradises, Olaizola still grasps the power of brevity. As Luisa squats on the beach in her glasses and a cow looks back at her in seeming incomprehension, it is clear that the young woman is painfully out of place as an urban person expecting "nature" to help conquer her habit. Shooting up in her dark cabin, she has the shadowy agony of a martyr in a 17thcentury painting.
Non-professional Salomon Hernandez brings a refreshing tough love to the odd couple's bond. Speaking as a character who knows, he makes it clear that addiction is the least beautiful thing about this glorious landscape.
Production Companies: Interior 13 Cine, Hubert Bals Fund, FONCA/ CONACULTA, Tribeca Film Institute, Centro de Capacitacion Cinematografica
International Sales: Interior 13 Cine +52 1 55 54006972
Producers: Yulene Olaizola, Sandra Gomez, Maximiliano Cruz
Screenplay: Fernando del Razo, Yulele Olaizola
Cinematography: Lisa Tillinger
Editor: Ruben Imaz
Music: Emiliano Motta, Emiliano Glez. De Leon
Main Cast: Luisa Pardo, Salomon Hernandez