Dir: David Blair. UK. 2011. 108mins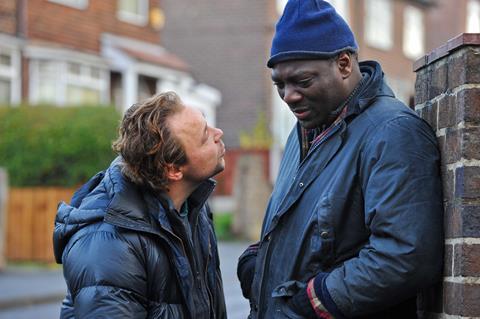 There is a whole lot of Of Mice And Men charm to new British film Best Laid Plans which transplants the little-and-large tale to the Midlands and sets its against a backdrop of gangsters and cage-fighting. The strong performances and confident structure will help a positive response, but international audiences may be a tough sell.
Stephen Graham and Adewale Akinnuoye-Agbaje bring a good deal of humour and charm to their performances.
The increased international profile of leads Stephen Graham (Boardwalk Empire) and Adewale Akinnuoye-Agbaje (Lost) could well help prospects, but despite the confident turns the film does feel rather familiar at times. But it is an easy watch and nicely scripted and handled with a good deal of charm.
The opening scene is the perfect set-up for the relationship between small-time chancer Danny (Graham) and gentle giant Joseph (Akinnuoye-Agbaje), as Danny cajoles his strong friend to steal a massive fridge-freezer from outside a shop and lumber down the road carrying the item.
But Danny owes money, and his only way out is to convince the reluctant Joseph to take part in underground bare-knuckle fights. At the same time Joseph takes a shine to Isabel (Maxine Peake), who is also mentally challenged, but whose parents approve of the new relationship, while Danny tries to score with kind-hearted prostitute Lisa (Emma Stansfield), who against the odds start to fall for the devious Danny.
But with gangsters pursuing the debt Danny owes, the scene is set for a dramatic showdown as Joseph finally makes a stand against being exploited by his friend.
Director David Blair keeps things moving at a nice pace and Stephen Graham and Adewale Akinnuoye-Agbaje (especially) bring a good deal of humour and charm to their performances. The ending might be a little too pat, but it is engagingly staged and sees the characters – at least for a while – manage to escape their grim urban lives.
Production companies: Moli Films, EM Media, AV Pictures, Scarce Resources, Editz, the Fyzz Facility, Moli Up North, Made Up North International sales: AV Pictures, www.avpictures.co.uk
Producers: Michael Knowles, Stacey Murray, Brad Moore
Executive producers: Mark Foligno, Richard Turner, Lee Brazier, Chris Hainsworth, Angad Paul, Chris Wright, Chris Green
Screenplay: Chris Green
Cinematography: Ali Asad, Daf Hobson
Editor: Pia Di Ciaula
Production designer: Kristian Milstead
Music: Rob Lane
Main cast: Stephen Graham, Adewale Akinnuoye-Agbaje, Maxine Peake, Emma Stansfield, David O'Hara, Peter Wight, Sarah Parks, Lee Ingleby