Dir/scr: Jesper Ganslandt. Sweden. 2012. 88mins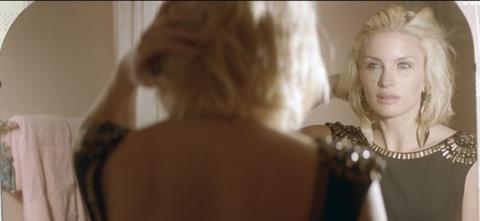 A Swedish family get-together just wouldn't be the same – in the cinematic world at least – if there weren't angst, turmoil, recriminations and high drama. Blessedly Jesper Ganslandt's impressive comedy-drama Blondie keeps up that fine tradition to good effect, drawing out great performances from his cast.
Beautifully shot and elegantly layered with drama, laughs and pathos, Blondie is a gently engaging film from a fine filmmaker.
The fact that that film has two chapter heads - Part 1: The Family Gathers and Part 2: The Family Disintegrates – gives a pretty good description of the substance of the film, but Ganslandt (who made the critically acclaimed and darkly funny The Ape) is a talented filmmaker and keeps his story playful and provocative as well as nicely dramatic.
Premiering in Venice Days section, the film may lack the star power to be an easy sell to international buyers, but its potential is there for a smart art house release, while festival attention will be a certainty.
The nice thing about Blondie is that is at its core about relationships between two generations of women (some male characters do crop up, but they are side dishes rather than the main course), as three sisters return to their mother's country home for her 70th birthday celebrations.
Oldest sister Elin (Carolina Gynning) is a model who relishes her lifestyle of drinks, drugs and short skirts; middle sister Katarina (Helena af Sandeberg) is a doctor unhappy with her life – husband and two (naturally blonde) daughters Elsa and Louisa – and having an affair, while youngest sibling is Lova (Alexandra Dahlstrom), a mild and sweet girl who feels the pressure of her family and suffers from anxiety.
Naturally they all want to impress their rather domineering and forthright mother Sigrid (played with relish by veteran actress Marie Goranzon) who is happy to have them at her home and her party…but very much on her terms.
Over the course of their stay there is bickering and affection between the sisters, while Elin especially has a prickly relationship with her mother (her old room has been turned into an office and is bitter that her childhood was brought short when she was packed off to be a model in Milan aged 15), with things coming to a head when Lova suffers from a panic attack at he party itself.
But when the party is over, Sigrid is keen the daughters should all go their own way, so she can get back to her comfortable, solitary life. But when she has a mild stoke at a dog show the girls find themselves back in her life and begin to question their choices in life…especially when they find their mother changed after the stroke, unable to remember them clearly and far more affectionate than her former self.
The actresses – all very different in terms of acting style – are all quite fabulous. Model (and a Miss December in German Playboy) Carolina Gynning makes a striking screen debut as the vivacious but rather sad Elin; Helena af Sandeberg is busy, tormented and appealing as Katarina, while Alexandra Dahlstrom (actually more strawberry blonde than pure blonde) is elfin and engaging. Perhaps best of all, though, is Marie Goranzon who seems to have a fine time as the domineering matriarch who veers between thoughtless cruelty and affection.
There is also nice support performance from Olle Sarri (who played the lead in The Ape) as Janne, Katarina's rather bland and dispirited husband. Beautifully shot and elegantly layered with drama, laughs and pathos, Blondie is a gently engaging film from a fine filmmaker.
Production companies: Fasad, Film I Vast, Svenska Filminstitut
International sales: TrustNordisk, www.trustnordisk.com
Producer: Jesper Kurlandsky
Co-producer: Jessica Ask Gunnar Carlsson,
Cinematography: Linda Wassberg
Editors: Anna Ivanova, Johan Bjerkner
Production designer: Catharina Nyqvist Ehrnrooth
Music: Fredrik Emilson
Main cast: Alexandra Dahlstrom, Helena af Sandeberg, Carolina Gynning, Marie Goranzon, Olle Sarri, John Axel Ariksson