Dir: Roman Polanski. France-Germany-Poland. 2011. 79mins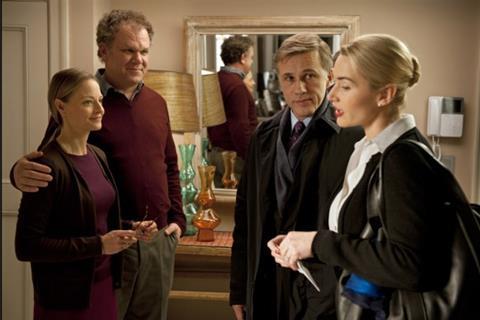 Bitingly amusing and brimming with top-notch performances – as well as the hilarious sight of Kate Winslet projectile vomiting – Roman Polanski's taut and tasty new film Carnage is a pacy and engaging affair. Playing heavily on its stage origins it is frothy, scathing and funny and will likely find a welcoming audience who'll embrace its middle-class angst and witty banter.
Kudos also to veteran production designer Dean Tavoularis for his immaculate work.
Shot in real-time and closeted in the single setting of one apartment, the film is an adaptation of Yasmina Reza's hit play The God of Carnage, which played in Paris, London and New York. Originally set in Paris, Polanski and Reza's adapted the play so it could be set in New York. It is a film that will appeal to festivals (it has a cast to die for) and could well break out into discerning art house sites, especially if any awards nominations come its way.
Polanski embraces rather than tries to hide the film's stage-bound origins, and while this means that the dialogue pacing is fast and shooting style traditional rather than prosaic he succeeds in keeping the story edgy and challenging, and allows his four led actors to really inhabit their characters. As it spirals towards its amusingly messy conclusion the film loses its tightness and lapses towards drunken clichés, but Carnage is never if not watchable and enjoyable.
The film opens with a long shot of a waterside New York park with a group of eight to 10 year-old boys centre stage. We see them pushing and shoving, with eventually one the boys flailing with a stick and catching another in the mouth.
Things then cut to a nicely maintained New York apartment where two sets of parents are agreeing a statement about the incident. The son of Penelope and Michael Longstreet (Jodie Foster and John C Reilly) was the one hurt, while the son of Nancy and Alan Cowen (Kate Winslet and Christoph Waltz) was the one who wielded the stick.
As the four try to conclude a statement about what had happened they initially behave politely – parents who have never met before, who are mortified about what happened between their children and who want to find a way to get past the incident. But things soon descend into a biting comedy of manners as the Cowens never quite manage to leave the apartment block, being constantly drawn back into the domestic battlefield of the living room as their conversation heads into a myriad of areas.
The pinch-lipped, prissy and uptight Penelope and the superior and smug Alan – with his constant mobile phone conversations – initially antagonise each other, while seemingly perfect Nancy tries to mediate and levelheaded Michael tries to take all sides.
But after coffee and more conversations rifts begin to emerge…initially when Nancy finds out Michael had let the family hamster loose in the street (he is a killer in her eyes), and dramatically when Nancy vomits over the coffee table. Even worse she throws up onto Penelope collection of art books!
And with the vomiting over the foursome then take to the bottle, and over 18 year-old single malt whisky more than a few home truths start to come out, ranging from their attitudes to child care and through to the state of their respective marriages. Alcohol loosens the tongues and the comedy becomes even more barbed and accurate.
The four leads are all excellent. Jodie Foster nails the edgy hysteria of an unhappy woman who takes everything too seriously, while Kate Winslet is perfect as the gentle and beautifully made-up businesswoman who gradually gets more and more shrill.
Christoph Waltz has perhaps the most clichéd role – smug lawyer with a mobile glued to his ear – but his sardonic manner is perfect for the role and he has some memorable lines, while John C Reilly is sheer perfection as the blue-collar everyman who actually wants little out of life.
The single-set structure means the dialogue has to be smart and snappy otherwise things could drag, and while Polanski keeps up the pace nicely the final third (when the drinking kicks in) never fully convinces. Do people really slug back whisky in the daytime for the hell of it? Kudos also to veteran production designer Dean Tavoularis for his immaculate work in creating a single set that really works and is as much a character as the leads.
Production companies: SDS Productions, Consantin Film Productions, SPI Film Studio, Versatil Cinema, Zanagar Films, France 2 Cinema
International sales: Wild Bunch, www.wildbunch.biz
Producer: Said Ben Said
Co-producer: Roman Polanski
Screenplay: Roman Polanski, Yasmina Reza based on Reza's play Le dieu du carnage (The God of Carnage)
Cinematography: Pawel Edelman
Editor: Herve de Luze
Production designer: Dean Tavoularis
Main cast: Jodie Foster, Kate Winslet, Christoph Waltz, John C Reilly