Dir: Kim Chapiron. Canada-France. 2009. 88mins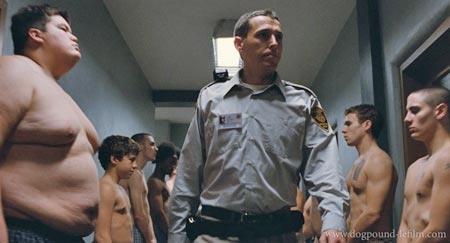 Dog Pound doesn't hide its despair about the juvenile prison where its grim story takes place. From a young French director, Kim Chapiron (who made 2006 film Sheitan), this drama is a chilling walk through a training ground for violence and aggression.
Although the film conforms to prison-movie formulas, Chapiron creates a look that's unusually stark.
The critics are likely to rally around Dog Pound, which can stand up on its own bare-boned terms to comparisons with Jacques Audiard's A Prophet. Without stars, the English-language prison drama is likely to remain in the art house circuit, though home entertainment demand will rise if any of its young actors leverages the well-crafted film as a calling card to higher-profile roles.
Dog Pound follows three young offenders with a camera that couldn't be closer to the skin. Cinematographer Andre Chemetoff sustains that tactility throughout the film, so the cramped spaces are felt as much as seen.
The script by Jeremie Delon and Chapiron is spare. Much of the action is silent, and almost all that's known of the characters is revealed in a prologue that shows them committing their crimes. There are no gestural speeches, and Dog Pound isn't sentimental about their innocence. One highjacks a car. Another blinds an abusive prison guard.
Although the film conforms to prison-movie formulas, as green prisoners enter a vicious culture of aggression inside the walls, Chapiron creates a look that's unusually stark. Props are as minimal as the dialogue, ensuring that the drama plays on the actor's faces, and on the young bodies that inevitably collide.
Alan Clarke's films of the 1980s seem a strong inspiration for the look of Dog Pound, and the "white trash" photographs of American youths by Larry Clark are reflected in the casting. Adam Butcher, who plays the wildly explosive Banks, has the gaunt fiery look of a Larry Clark subject. The fleshy prison bullies ooze with sadism.
For a film directed and written (in English) by Frenchmen, clichés about the US are generally absent. There's no cheap anti-Americanism, nor is there noble-savage exoticism of wild children behind bars, no knee-jerk depiction of prison guards as predators. Insiders are still likely to find the prison in Dog Pound (shot in New Brunswick, Canada), however brutal, to be far too humane for a US institution.
As Davis, a cocky comfortable high school drug dealer who gets caught and jailed, Shane Kippel (of the popular Canadian television series DeGrassi) shows the vulnerable incredulity of the kid who never thought the everyday abuses of prison life could happen to him.
Mateo Morales plays Angel (a rare case in Dog Pound of a name telegraphing assumptions about a character) as a gentle naïf, albeit one who steals cars and clubs their owners.
Chapiron's instinct for realism is strong, despite the obligatory prison rape and hunger strike that trigger the film's crescendo. There's genuine assurance in this second film by a director who's only 28, and reason to expect even better.
Production Companies: Partizan Films, Grana Productions
International Sales: Wild Bunch www.wildbunch.biz
Producer: Georges Berman
Co-Producer: Sam Grana
Screenwriters: Kim Chapiron. Jeremie Delon
Cinematography: Andre Chemetoff
Editor: Benjamin Weill
Music: K'naan, Nikkfurie (La Caution)
Main Cast : Adam Butcher, Shane Kippel, Mateo Morales, Slim Twig, Taylor Poulin, Dewshane Williams, Lawrence Bayne