Dir: Ryan Andrews. UK. 2012. 85mins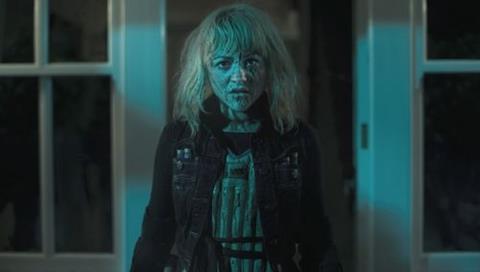 Low-budget British shocker Elfie Hopkins plays at being a whimsical, chilling and at times gory little dark fairytale, finding its feet at the story develops into horror territory and sensibly relying on a strong sense of design that helps mask a rather stuttering story. In the UK, though, it will likely get most attention from that fact it is something of a family affair – starring young actress Jaime Winstone alongside her more well-known father Ray.
There are a few moments of nicely staged creepiness.
The film is actually very much a Jaime Winstone vehicle, with the charismatic Ray only cropping up for a few cameo scenes (memorable though they are) but at least helping give the film a sense of depth.
Tobia Sempi's burnished cinematography helps reinforce the fairytale element and the wooded rural locations attempt to play on the Twilight atmosphere, and while in the end the budget constrictions and some scattershot performances hamper the project, it is at least a high-concept attempt at the type of dark fairytale genre and could well appeal to buyers of horror material.
Sulky Elfie Hopkins (Jaime Winstone with a shaggy haircut and a permanent scowl) looks for mysteries in her sleepy rural village, usually with loyal best pal Dylan Parker (Aneurin Barnard, so good recently in Hunky Dory) in tow. To her surprise a mystery lands on her doorstep when the too-perfect-too-be-true Gammon family (Rupert Evans, Kate Magowan, Will Payne and Gwyneth Keyworth) move in next door.
Bodies start to fall and lies are told, but it is not until well into the final third that director Ryan Andrews really plays the horror card, as it transpires the Gammons favourite food is not that sort to be found in the local supermarket. There are a few moments of nicely staged creepiness (and Gwyneth Keyworth is great as the oddest of the Gammon family) and it finally finds its tone when Elfie gets kitted out for a showdown with the Gammons (hockey padding, scythe, cricket bat and a shotgun) but the conclusion feels rushed and unconvincing.
Production companies: Black and Blue Films, Size 9 Productions, The Fyzz Facility, Tweed Films, The Mews
International sales: Kaleidoscope Film Distribution, www.kaleidoscopefilmdistribution.com
Producers: Michael Wiggs, Jonathan Sothcott
Associate producers: Jaime Winstone, Steve Matthews, Caroline Stern
Co-producers: Ryan Andrews, Riyad Barmania
Executive producers: Ray Winstone, Billy Murray, Spencer Pollard, Simon Phillips, Wayne Marc Godfrey, Robert Jones, Gareth Mullaney, Ciaran Mullaney
Screenplay: Riyad Barmania, Ryan Andrews
Cinematography: Tobia Sempi
Editor: Peter Hollywood
Production designer: Tim Dickel
Music: Jordan Andrews
Main cast: Jaime Winstone, Aneurin Barnard, Rupert Evans, Kate Magowan, Ray Winstone, Steven Mackintosh, Kimberley Nixon, Gwyneth Keyworth, Will Payne, Amanda Drew, Julian Lewis Jones, Claire Cage