Dirs: Judith Colell, Jordi Cadena. Spain. 2010. 72mins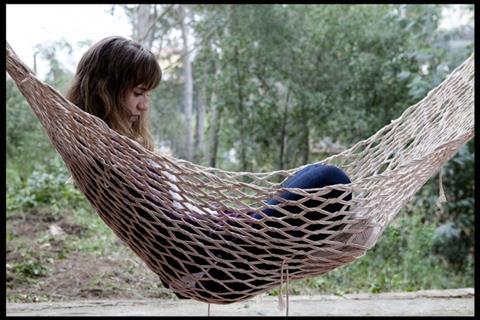 Elisa K is a starkly beautiful and also viscerally powerful film. Stylishly made by co-directors Judith Colell and Jordi Cadena, it make for compulsive viewing and is just the sort of film that art-house distributors should be taking a look at. If handled properly it could well work outside Spain and Spanish-speaking territories, and will likely also figure in other festivals.
A memorable and powerful film that is movingly grippingly.
And while the subject matter is pretty tough – the rape of an 11 year-old girl – the film is never exploitative; instead it uses a series of different cinema styles to tell its dark story. The running time may be modest, but this remains a perfectly formed film.
The first half of the film is scope black-and-white, with a mordent voiceover (by Ramon Madaula) telling the story of young Elisa Kiseljak (Clàudia Pons), who is due to turn 11 in a few months. The voiceover story is told in almost children's book style, details a day out with Elisa, her father and brother, and how her father's friend comes to have coffee with them. In a matter-of-fact manner, the voiceover adds that while the father is asleep and her brother outside Elisa is raped, with the man telling her: "If you stop crying I'll give you a silver bracelet".
The trauma of the incident forces Elisa to blank it from her memory, though she becomes sullen and uncommunicative, sleeps badly and starts to fail at school. Her mother (Lydia Zimmermann) is concerned, but Elisa says nothing.
As an adult – the film now switches to colour scope – Elisa (Aina Clotet) leaves home to study, and after spending time by herself eventually shares a flat. One day, out of nowhere and 14 years, four months and a few days later, her memory of the rape returns and finds herself physically and emotionally traumatised. She tells her parents when happened to her as she gradually tries to deal with the terrifying memory.
Both Aina Clotet and Clàudia Pons are impressive as Elisa. As the younger girl Pons is called on mainly to looks sad and sullen, but in Clotet's case she has the powerful disturbing scene of Elisa's memory surging back into her, and physically and emotionally knocking her for six. It is a visceral and bruising sequence and Clotet is extremely good as a young woman trying to come to terms with the arrival of a horrible and traumatic memory.
Co-directors Judith Colell (whose film 53 Días De Invierno played at San Sebastian in 2006) and Jordi Cadena (whose film Els Papers d'Aspern played in competition in San Sebastian in 1991, and who returns to filmmaking after a period as a teacher) gel perfectly to craft a memorable and powerful film that is movingly grippingly.
Production companies: Oberon Cinematografica, Televisio de Catalunya SA, Indigo Media, ICAA, ICIC, TVC, Catalan Films
International sales: Imagina, www.imaginasales.com
Producer: Antonio Chavarrias
Screenplay: Jordi Cadena, based on the story Elisa Kiseljak by Lolita Bosch
Cinematography: Sergi Gallardo
Editor: David Gallart
Main cast: Aina Clotet, Clàudia Pons, Lydia Zimmermann, Hans Richter, Jordi Gràcia, Nausicaa Bonnín, Mari Pau Pigem, Pep Sais