Dir: Julien Magnat. US-Fr-Can. 2011. 98mins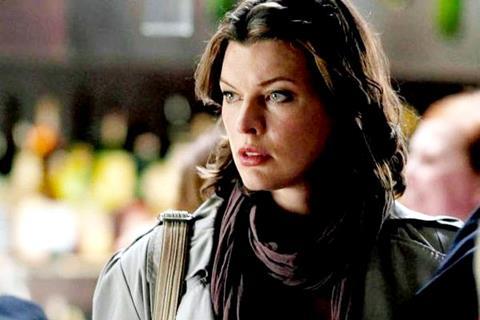 An enthusiastic performance by Milla Jovovich gives by-the-numbers thriller Faces In The Crowd a veneer of respectability that it doesn't really deserve. Inadvertently funny and as generic as humanly possible, the film will do the straight-to-dvd route in most territories, though a brief theatrical run in some more tolerant territories may well be a possibility.
Director Julien Magnat has most fun when it comes to multiple actors having to play many of the key roles.
Fans of Jovovich and her Resident Evil butt-kicking antics will be slightly disappointed that she doesn't get physical in the film, which aims for psychological chills rather than thrills'n'spills. It has its share of enjoyably quirky moments, but can never really rise above the silliness of the concept or the ponderousness of the script.
Faces In The Crowd is modestly budgeted fare that relies on that old scripting gambit of coming up with a wacky condition for our plucky heroine to suffer. In this instance it is a condition called Prosopagnosia, in which the brain stops being able to recognise and distinguish faces…or 'face blindness' to you or I.
Jovovich stars as Anna Marchant, a kindergarten teacher who seems to have it all – adoring boyfriend, nice job and two party-mad best girl pals – but things take a turn for the worst when she has an unpleasant encounter with marauding serial killer Tearjerk Jack (who kills women and then tearfully rapes the corpse) while walking home late one night.
After stumbling across him in mid-act, she is attacked on a bridge, but fights him off only to fall off the bridge and bang her head. When she wakes in hospital she finds she is suffering from a nasty dose of 'face blindness'.
This means she can't recognise or remember faces (which makes it hard to sustain her relationship - as her boyfriend shouts as he storms out… "I can't deal with this face blind shit") let alone recall what the killer looks like.
Director Julien Magnat has most fun when it comes to multiple actors having to play many of the key roles (every face is different to Anna, even when she looks in the mirror) but otherwise it is all pretty pedestrian. It comes as no surprise that Anna engages in little love tryst with the policemen in charge of her case, Detective Kerrest (Australian actor Julian McMahon, best known for TV series Nip/Tuck) before an eventual final showdown with the on the bridge where the killer first attacked her.
Milla Jovovich takes it all very seriously – which sadly makes it all the more amusing at times – and the direction is racked up at times in a bid to make it all the more hysterical and creepy (it largely fails) but very little can help make this modest little chiller anything more than modestly interesting.
Production companies: Forecast Pictures, Frantic Films Live Action Productions, Minds Eye Entertainment, Radar Films
International sales: Voltage Pictures, www.voltagepictures.com
Producers: Kevin DeWatt, Jean-Charles Levy, Clement Miserez
Executive producers: Jamie Brown, Gianluca Chakra, David Cormican, Gerard Damaer, Nadine De Barros, Lisa Donohue, Becki Hui, Milla Jovovich, Nicolas Manuel, Danielle Masters, Scott Mednick, Mark Montague, Christopher Petzel, Olivier Piasentin, Laurent Soregaroli, Frank White, Sylvain White
Screenplay: Julien Magnat, Kelly Smith, Agnes Caffin
Cinematography: Rene Ohashi
Editor: Antoine Vareille
Production designer: Kathy McCoy
Music: John McCarthy
Main cast: Milla Jovovich, Julian McMahon, David Atrakchi, Sarah Wayne Callies, Michael Shanks, Marianne Faithful, Valentina Vargas