Dir/scr: Craig Viveiros. UK. 2011. 98mins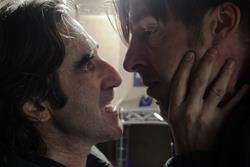 Prison-set dramas a clearly much beloved by British filmmakers. Just a few weeks after the release of Screwed (and a goodly while after the likes of Bronson and others) comes Ghosted, a brutal little number that delivers in terms of violence and atmosphere, but lacks subtly or storyline to appeal to anyone other than fans of the genre.
Ghosted is impressively staged and certainly well performed.
The film, the directorial debut of cinematographer Craig Viveiros, screened at the Edinburgh International Film Festival prior to a brief UK theatrical release that is essentially a platform for its likely far longer life on DVD. The casting of John Lynch, Art Malik (also an executive producer) and Martin Compston could help its profile in terms of international distribution.
Whereas Screwed took the viewpoint of the prison guards – and managed to work up a watchable plotline – Ghosted heads back into the tried and tested territory of a younger inmate befriended by a more compassionate older lag, but tormented by the threat of violence from other inmates.
This time round we have seasoned prisoner Jack (the always watchable John Lynch) taking a fatherly interest in newly transferred Paul (Compston), serving time for arson. Jack has issues – his wife has just announced she wants a divorce – while Paul is a complex soul who has been in care since he was 10.
In such prison drama, violence is always waiting in the shower block, and when particularly brutal prisoner Clay (a nicely nasty performance by Craig Parkinson) decides to move in on Paul things are clearly set up for a violent climax.
Ghosted is impressively staged and certainly well performed, but it is quite simply that it lacks any real sense of doing anything original with a film genre that is overused and rarely done with real imagination.
Production companies: Motion Picture House, London Film & Media International sales: Motion Picture House, www.mphfilm.com
Producers: Rupert Bryan, James Friend, Craig Viveiros
Executive producers: Art Malik, John Joakim, Martin Bang, Lucien Bartram
Co-producer: Mark Downes
Cinematography: James Friend
Editors: Sam White, Kelvin Hutchins
Production designer: Danny Rogers
Music: Amory Leader, Simon Williams, Simon Richardson
Main cast: John Lynch, Martin Compston, Craig Parkinson, Art Malik, Hugh Quarshie, David Schofield, Amanda Abbington, Neil Maskell