Dir/scr: Adam Leon. US, 2012. 80mins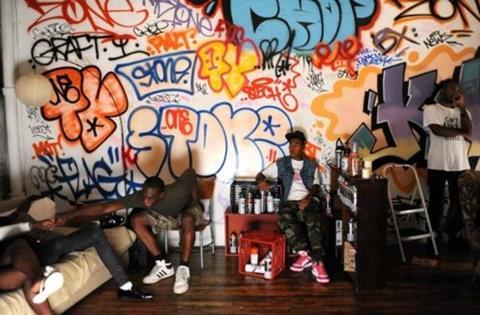 Led by his two charismatic young lead actors, Adam Leon's Gimme the Loot is an almost compulsively endearing film about two tough-talking teenagers in the Bronx. Set over two swelteringly hot summer days during which they plan to make their names by pulling off New York's most daring graffiti-writing heist, Gimme The Loot's fast-talking Malcolm (Hickson) and Sofia (Washington) are expertly-written and performed characters who neatly skewer some stereotypes.
Gimme The Loot is fresh and good-humoured, light on its feet and full of unexpected moments.
Already set for US distribution through Sundance Selects and winner of the Grand Jury prize at this year's SXSW, Gimme The Loot is instantly a classic New York film, which stands to be just as - if not more - popular in international arthouse play. Leon marks his card as a director, writer, and authentic observer (some of his dialogue is markedly astute and very funny), but it's Hickson and Washington who dominate as two teenage graffiti artists and small-scale scammers.
Using handheld (of the blissfully smooth variety), Jonathan Miller's lens manages to capture the breadth of the city in sun-bleached summer while also narrowing in the focus to the limited part of it occupied by platonic friends Malcolm and Sofia. This is clearly low-budget film-making, but the constraints manage to make make it feel all the more authentic.
Captured at the onset raiding a local store for spray cans, Malcolm and Sofia tag another gang's turf and return the next day to find their artwork blitzed over with Mets logos. This is thankfully no cue for a knife fight, however, with the pair instead hatching a harebrained revenge scheme to "bomb the apple" - spray graffiti all over the giant apple which appears at Shea Stadium every time the Mets score. To pull off this never-before-achieved coup, they need to raise $500 to pay off a security guard, which is an almost unimaginable sum to them.
Chock full of braggando but equally as inept as they are mouthy, Malcolm and Sofia manage to lose more than they gain. Sofia takes a pair of trainers in lieu of a debt, for example, but when she comes outside, two kids have stolen her bicycle. She gives chase and snatches one of the thieves' mobile phones, but she's also scammed out of the proceeds of that.
Malcolm, meanwhile, cons his pot dealer Donnie out of five baggies of weed and sells them to rich kid Ginnie (Lescaze). Visiting her tony apartment may as well be a trip to another planet for Malcolm, and when he searches there for something to steal, he pathetically ends up grabbing from the penny jar. The key she wears on a chain around her neck to the family's jewelry box could be the answer to Malcolm and Sofia's prayers, however, and they enlist their tattooed pal Champion (Meeker) to help rob the apartment.
Gimme The Loot is fresh and good-humoured, light on its feet (which, in Malcolm's case, end up being shoeless) and full of unexpected moments. Even the score, which might normally be expected to crash around in a film like this, is asturely applied and infused with older numbers, the proceeds playing out to Marion Williams' version of I Shall Be Released. Careers could start here - apart from Leon, both lead actors are making their debut, as is Zoe Lescase, having fun as the spoilt rich kid. It would be a surprise, and indeed a disappointment, not to see more of them.
Production company: Seven for Ten
International sales: Urban Distribution International, www.urbandistrib.com
Producers: Nathalie Difford, Dominic Buchanan, Jamund Washington
Cinematography: Jonathan Miller
Editor: Morgan Faust
Prod designer: Sammy Lisenco, Katie Hickman
Music: Nicholas Britell
Main cast: Tashiana Washington, Ty Hickson, Zoe Lescaze, Sam Soghor