Dir/scr: Vincent Garenq. France-Belgium. 2011. 102mins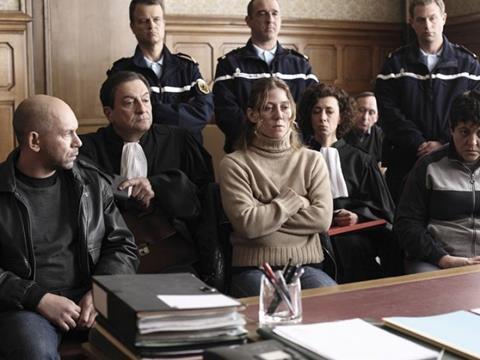 The most stunning and tentacular miscarriage of French justice in modern times - the "Outreau affair" - is soberly and skillfully portrayed as the horror story it is in Guilty (Présumé coupable). Philippe Torreton's central performance (he's in nearly every frame) as Alain Marécaux, a respected legal professional, husband and father whose life is shattered overnight by flawed and flimsy accusations of child rape is a draining but riveting tour-de-force.
The film excels as a portrait of a decent, educated man who is used to making sense of things and has nothing useful to go on.
French and Belgian filmgoers may assume they got the full story in the news media as the spectacularly sordid tale of an alleged 18-person pedophile ring dragged on, but writer-director Vincent Garenq has done justice to a tale of injustice that goes well beyond the headlines.
Even the most casual student of how the French and Anglo-Saxon legal systems differ (and the Dominique Strauss-Kahn arrest and release has stirred up mutual incomprehension astride the Atlantic) will be drawn into this unsettling entry in the "wrong man" genre. The sharply shot and structured film premieres in Venice and hits French cinemas on September 7 (though had a sneak public screening on August 30).
A stronger term than "Kafkaesque" is needed to convey the seemingly bottomless compound nightmare into which hard-working Marécaux was plunged with a knock at the door one night in winter 2001. When it was over, and the lone accuser admitted she'd lied (her rationale and her own transgressions are jaw-dropping), French critics called the Outreau affair a "judiciary shipwreck" and "judiciary Chernobyl." Marécaux's memoir, based on his prison diary, was a primary source and he signed off on the script.
Marécaux routinely put in 12-hour days at the work he loved as a "hussier de justice," a French profession with no convenient English-language equivalent, encompassing the duties of notary, process server, bailiff and more.
Arrested without warning, dragged away from his wife (also arrested) and children (taken away) and permitted no phone call, Marécaux doesn't have the slightest idea what this is all about as he's hustled into a police van in handcuffs. But recently graduated investigating magistrate Fabrice Burgaud (Raphael Ferret) is convinced he has nabbed a disgusting criminal who sodomized his own children as well as others younger than 15.
In custody the cops crudely taunt Marécaux about his sexual orientation - "You had sex with your wife but didn't penetrate her" - while one of his arms is shackled low to the floor.
Despite ludicrously slim and contradictory "evidence" concerning the accused, Marécaux's lawyer (Wladimir Yordanoff) barely has time to warn his client not to mention the charges or his profession as he's bundled off to jail, where he's put in a crowded horrible cell with half a dozen other guys. Matters go downhill from there. WAY downhill.
The film excels as a portrait of a decent, educated man who is used to making sense of things and has nothing useful to go on. He's stripped of his liberty, reputation, family and profession because a woman he doesn't know has inexplicably accused him of something he did not do.
Watching Marécaux's plight is like watching all the unfair and disproportionate punishment of Les Miserables if Jean Valjean had never seen a loaf of bread in his life, let alone stolen one.
Once the wheels of "justice" start turning, nothing can stop the twisted faulty logic. And the sickening irony is that Marécaux had spent his entire career on the professional side of the legal system only to become its victim. How Marécaux copes as the self-perpetuating case drags on for years is hard to watch but, thanks to a smart script and fine performances, easy to follow.
The viewer is thrust into Marécaux's shoes in such a way as to fully understand why he'd crave the laces with which to hang himself. A life-threatening hunger strike (Torreton dropped 27 kilos/59 pounds) merely demonstrates that the health system functions better than the legal one.
In terms of both French society and filmmaking, it's interesting that the past two years have produced two films centered on the real life deportation with government complicity of thousands of French Jews during WWII (The Round Up, Sarah's Key) and also two films about men convicted of horrible crimes on the basis of less-than-airtightaccusations (late-June release Omar m'a tuer, directed by Roschdy Zem and starring Sami Bouajila as an illiterate gardener railroaded for murder but eventually pardoned and now this).
Torreton is the third top-notch French actor in the past two years to reduce himself to a living skeleton for the needs of a role - all three based on true stories: Yvan Attal in extortion/kidnapping drama Rapt, Bouajila and this.
Jacques Audiard's A Prophet was a work of imagination set primarily behind bars. This is a true story of imprisonment that's unimaginable and yet really happened.
Production companies: Nord-Ouest Films, France 3 Cinema, Artemis Productions
International sales: Films Distribution, www.filmsdistribution.com
Producers: Christophe Rossignon, Philip BoëffardExecutive producer: Eve François-Machuel
Screenplay: Garenq, based on Alain Marécaux's memoir Chronique de mon erreur judiciare
Cinematography: Renaud Chassaing
Production designer: Yves Brover
Editor: Dorian Rigal-Ansous
Website: www.presumecoupable-lefilm.com
Main cast: Philippe Torreton, Noémie Lvovsky, Raphael Ferret, Michele Goddet, Farida Ouchani, Olivier Claverie